Everyone loves a great name. You can say it's alliteration or originality, but all human beings are born with that consensus of what a great one entails. The NFL has had no shortage of fantastic handles over the years, and whether they've become household names, role players, or just caused a lot of confusion, here are the ten coolest names in NFL history.
10. Peerless Price
Alliteration in names either means your parents are cool AF or you're a porn star (don't think Peerless is the latter, but also don't quote me on that). Why so many people don't have alliteration in their name is a modern day mystery — it's the champagne of name cadence. Peerless was well known because he was a good receiver, but more so because his name was so captivating. He was a shoe-in WR2 in fantasy simply because his name was that cool, so the casual fan could go, "hey, I know that guy!"
9. Chuck Long
The first of a few ironic names on this list, Chuck Long would not appear here if he hadn't played quarterback. The irony is just too much. Like, I can't even. I can see Chuck showing up to the first day of Pee Wee, when everyone played everything from center to running back to tight end, and that hardo dad going, "Chuck Long? CHUCK LONG! HA! Get under center, son!" He would uphold his name on his very first passing attempt by completing a 34-yard touchdown pass to echoes of "Chuck it long Chuck…Long!" (probably). Just an A+ name for a quarterback.
8. Zoltan Mesko
Poor Zoltan. The guy came to the U.S. from Romania knowing his name was only different because it was European. Then some movie entitled Dude, Where's My Car? comes out and forever sabotages his name and any chance at a normal introduction ever again. Like the cult in the movie, Zoltan had a huge following after Michigan where people would call him "Zoltamus Prime," "The Space Emperor," and "Zoltan the Inconceivable." Judging by the picture above, it seems he embraced the movie's prophecy and became the cult leader American popular culture demanded that he be. It appears he finally found his continuum transfunctioner.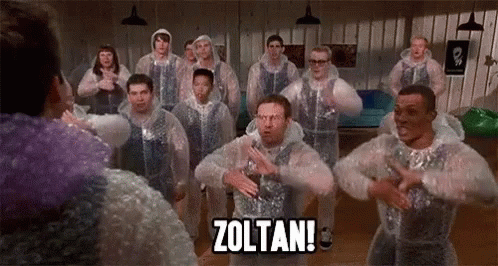 7. Dick Butkus
Dick Butkus is a name you heard as a kid that would make you laugh for hours. Dick Butkus is a name you hear today and still kinda giggle because you're that same stupid, immature, pervy kid. Dick and Butt are two of the world's safest punchlines for a joke, so you can imagine Dick heard 'em all throughout his life. You also can't help but think how the bullying he most definitely received as a kid helped him become one of the best linebackers in NFL history and maybe the league's biggest badass. I bet opponents thought his name was funny until he came through the line and cracked their skull.
6. Mac Speedie
Another ironic name, Mac Speedie was a quick wideout who helped bring five league championships to the Cleveland Browns in seven years. Wow how times have changed. The Browns sure could use Speedie today, who back in the day lead the league in receptions four times and was selected as a first-team All-Pro six times. He averaged 800 yards per season, a stat not surpassed until two decades after his retirement, and his per-game average of 50 yards went unmatched for 20 years after he left the game. And if you think he would've put up those numbers with a name like Mac Jefferson, you're crazy.
5. Webster Slaughter
Another Cleveland WR to make the list, Webster Slaughter's name seems to be the love child of a 19th century banker and a South Central gang member. Slaughter's knack for making big plays earned him the nickname "Web-Star", long before a little something called the Internet (all praise). The only thing he Slaughtered more than cornerbacks were touchdown celebrations with teammates.
4. Guy Whimper
Maybe the most ironic name on the list, Guy Whimper entered the NFL as a serious offensive tackle. The amount of shit he must've gotten from coaches over the years in practice when he would take plays off must've been ruthless. No way this guy went in for team interviews without the GM and scouts giggling. He was projected to go in the second round but dropped to the fourth because teams were skeptical that his name would influence his play, and I for sure did not make that up. What really needs to be addressed is how the other guy in the photo really needs to be sporting Guy's last name…
3. Coy Bacon
Coy Bacon is a name that begs the question, "What?", seeing as one, it is impossible to be coy around bacon, and two, bacon is the least coy of foods. It sizzles and glistens right in your face, begging you to devour it. Coy was anything but as he spent years in the NFL being outgoing with offensive lines and quarterbacks. His name inspired a memorable segment in an NFL Films production called the "Six Degrees of Coy Bacon," during which it was attempted to link Bacon to any other NFL alumni in six steps or less. Weird, seeing as nobody should need to take any steps to bacon. They should be standing right next to it.
2. Bronko Nagurski
Bronko Nagurski is a name that fit well on the gridiron, and fit well at Ditka's restaurant with Bob and Bill Swerski. I don't think Bronko had too many Polish sausages lodged in the lining of his heart, as he was known to absolutely truck defenders. Legend has it that he's responsible for a crack in Wrigley Field's outfield wall, stating, "that last guy hit me awfully hard." Such a powerful name, at a powerful position, in the Polish powerhouse city of the United States earned Bronko many fans.
1. Buzz Nutter
Buzz Nutter was Johnny Unitas' center aaannnddd cue the testicle jokes. Although his real name is Madison, he got the nickname Buzz when he was younger from what could only be some Ivy League school announcer, speaking in that classic '50s cadence. Now if only we could have had Buzz Nutter blocking Dick Butkus, every guy on planet earth would be dead from laughter.