Athletes are held high above the rest of society for their physical gifts, but unfortunately, no matter how high you rise, you can't escape the law (unless you're a television star: then you can do whatever you want). Their legal issues probably get squashed all the time before the paperwork is filed, but pro athletes still end up in handcuffs often, and usually for dumb reasons. Here are 11 who weren't so lucky with the po-po…
11. Dhani Jones


The then-Eagles linebacker was arrested in March 2006 and charged with "failure to obey a lawful command," because he was told to cease dancing outside of a club and the party didn't stop once the cops walked in. I agree with Dhani: when you've got the music in you, how are you supposed to get it out? It's like HPV. Once you have it, that shit stays with you.
10. Mike Vrabel
In April 2011, the then-Chiefs linebacker was taken into custody at a casino in Indiana on a Class D felony charge after "taking bottles of alcohol from a deli," according to ESPN. And what does a man who's won three Super Bowls do? Look for other thrills, I guess.
9. Pat McAfee
In October 2010, Colts punter Pat McAfee was arrested for public intoxication. What did him in? "A pre-dawn swim in a city canal," according to ESPN.com. McAfee is as kooky as punters get – he recently retired to go work at Barstool Sports, and that's all well and good, but if he likes drinking, swimming and causing a ruckus, maybe he should give Ryan Lochte a call.
8. Lenny Dykstra

Lenny Dykstra, the former Mets/Phillies outfielder who had since become a successful investor, was sentenced to 6 1/2 months in federal custody following bankruptcy fraud and other federal charges. Dykstra was already serving three years for grand theft auto. LENNY, LENNY, LENNY, ya steal bases, not cars and money. Lenny has served his sentence and now spends his time being too friendly to strangers at malls.
7. Chris Perez
Offense: Having weed shipped to his dog. I still can't decide if this is dumb or brilliant. What I want to know is whether the bigger crime is the cover-up of the fact that dogs love the herb and can use chrome autofill to order it off the internet. If not, I want the interrogation tape where Perez tried to convince a police officer that that was the case.
6. Plaxico Burress
Now a lot of you would want this to be number one, and I will say shooting yourself in the leg is straight dumb, but what I find shocking is that, considering how much Plaxico dropped the ball, he was even able to catch this bullet. And I think the embarrassment is enough that we can bury him in the middle of this list like that bullet buried into his thigh.
5. Nate Newton
Newton was caught with 175 pounds of pot in his truck in December 2001. Which is a trip, considering he was already out on bail after getting clipped with 213 pounds a month earlier. Chris Perez would say that this guy just had a lot of dogs, but it turns out that he just had Snoop Dogg on his delivery route.
4. Eli Manning
He's never committed a crime, but he turned himself in several times because he didn't know what "alibi" meant.
3. Cody Jamieson, Sid Smith, Travis Hill, Jordan Hall and Tyler Burton – Rochester Knighthawks Lacrosse
These lacrosse studs got busted for throwing plates while drunk at TGI Fridays on a Tuesday. I'm sure their parents had a long flight from Connecticut, which is a disaster, and even worse, they had to explain to their friends what the fuck their sons were doing in a TGI Fridays. A felony can go away but the stain of having been in a chain restaurant? How will we ever show our face at the country club again, Tyler? We're ruined.
2. Randall Simon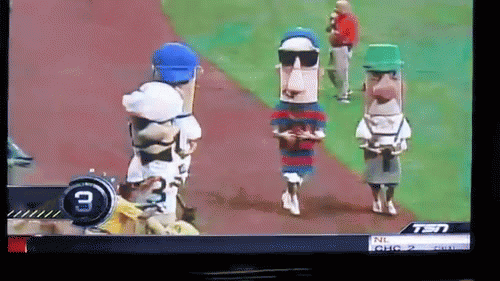 Randall Simon was a backup first baseman for the Pittsburgh Pirates when he apparently had money on the Sausage Race and decided to take out the front-runner. I'm sure Ol' Randy was just having a little bit of fun, but the only people who take baseball bats to people for fun don't play in sporting events. They fix them.
1. Clay Buchholz
Clay stole computers from a middle school in 2004 with the hope of reselling them for a profit, but much like Clay on the trade market this past offseason, he soon discovered he was unable to get anything in return. He was caught red-handed when he tried to sell the exact number of computers stolen from the local middle school to his community college. With that level of intelligence, I would be surprised if Buchholz could keep his own pitch count.