It's easy to count assist numbers, but who are really the best passers? Who makes the most impact on their team? We tried to answer those questions as comprehensively as we could. Vision and artistry counted a lot. So did efficiency. The effect they had on their teams was most important. Longevity, less so. If you can pass, you can pass, and if you can't, you can play until the end of time and still not be able to. Here are 15 who absolutely could:
(Note: This list has been updated and Jason Williams has been moved to #7 overall based on the passionate feedback we received from his ex-teammates extolling his skills as a passer)
Honorable Mentions
Andre Miller
 
Andre Miller came into the NBA with the game of a 40-year-old man and more or less didn't change at all during his 17 years in the league. How do you remain an above-average point guard well into your thirties with about the same amount of athleticism as David Stern? Passing, that's how…along with every old-guy trick in the book.
Ricky Rubio
 
Don't hold his lack of shooting ability or shitty teammates (pre-Towns and Wiggins) or the fact that he was taken over Steph Curry against him: when you combine his ability to find open men with his artistry in getting them the ball, Slick Rick is one of the best ever to do it. He's got style and substance, and with a stable of young talent around him – including some of the best finishers in the league – the best is yet to come.
15. Mark Jackson
 
We don't have much nice to say about him as a person, but the numbers don't lie. He averaged over ten assists per game his first year in the league, is currently fourth all-time in career assists, and had great vision for a player of his size (6'1). Andre Miller was probably a better all-around player, but Jackson gets the nod as a passer.
14. Rajon Rondo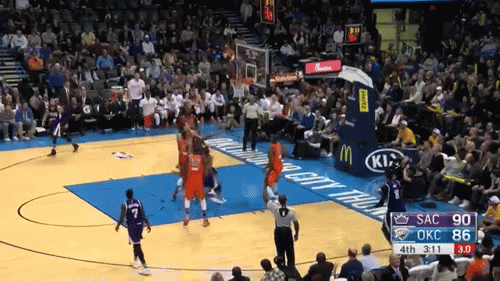 Rondo may have turned into an over-the-hill team killer at a rather precocious age, but the numbers don't lie, and even as a borderline-washed up player in the hellhole that was Sacramento, he averaged 11.7 assists per game in 2015-16, good enough to lead the league, and a number that most elite point guards could only dream about.  He actually could have been even higher, but he gets bumped down a few spots for tons of "selfish assists" (a term coined by the great Bob Ryan) – a.k.a. passing up open shots or smarter plays for guaranteed assists.
13. Bill Walton
The best passing center of all time played on two (three if you count UCLA) of the greatest passing teams in NBA history: the 1977 Blazers and the 1986 Celtics. Having a mobile center who can score, defend, rebound, AND pass may have been the ultimate luxury in the pre-small ball NBA, and even today, it's pretty damn important. Which brings us to…
12. Nikola Jokic
 
If you think this is too high, you haven't been watching this kid play. Formerly an obese water polo player who drank Coca-Cola like marathoners drink water, Jokic has transformed himself into (probably) the most skilled passer ever among players 6'10 or over. Hell, he may be the best passer in the NBA right now outside of Cleveland – he's certainly the most fun to watch – and unless he gets hit by an 18-wheeler, you can count on him climbing up this list rapidly. Let's watch one more just for kicks:
11. Pete Maravich
 
Maravich was the original White Chocolate, a super-skilled player with every trick in the book who left a trail of highlight videos and befuddled opponents in his wake. Scoring was his first priority – you don't average 44 points per game for three consecutive years in college without a 3-point line if it isn't – but Pistol Pete always had great court vision and got the ball to his teammates in more creative, original, and inventive ways than all but a handful of players in league history.
10. Oscar Robertson

We have about as much respect for the quality of NBA basketball in the pre-Vietnam era as we do for Charles Barkley's golf game, but there are exceptions to any rule. Rebounding was easier because there wasn't as much size. Shooting was easier because the on-ball defense paled in comparison to today. And while assist numbers may have been inflated because there were so many more possessions back then, the ability to find an open man is something you either have or you don't, no matter the competition. Put it this way: throw Swaggy P into your local pickup game at the Y and he ain't turning into Magic Johnson. Oscar also lead the league in assists seven times, so even if assist totals were inflated, he still had more than anyone else.
9. Chris Paul
 
Flashy passing is fun for the fans, but Chris Paul is more efficient. One of the last old-school point guards, he simply gets the ball to his teammates where they need it, when they need it, time after time after time. He has lead the NBA in assists per game four separate times, is second all-time in assist percentage, and hasn't averaged less than nine assists per game since his second year in the league. Bonus points for being the most prolific alley-oop thrower ever.
8. Lonzo Ball
 
Too high, right? You hate the choice? Fair enough, but we've seen a LOT of basketball, and very, very few passers with his skill level and production. He's he best young passer to enter the league at least since LeBron, and possibly since Jason Kidd. He single-handedly transformed UCLA into a ball-moving juggernaut during his one year there and usually pulls off 2-3 passes every game that most players couldn't imagine, never mind execute. Lonzo makes the simple passes, the difficult passes, and everything in between. The only thing that made this difficult was his lack of a track record against the best players in the world, but each year he plays in the NBA will justify this ranking more and more.
7. Jason Williams
White Chocolate was never the guy who was going to lead the league in assists, but when he did decide to be a distributor, good god was he fun to watch. He may be the most creative passer of the modern era and multiple ex-teammates swear he is the best they've ever seen. He started his career throwing alley-oops to Randy Moss in high school and starred in the pros for the Sacramento Kings, acting as the spark plug for some of the most advanced passing teams in modern NBA history alongside Chris Webber and Vlade Divac, two big men who barely missed making this list. Oh yeah…he also pulled off the only known elbow pass in NBA history, that Raef LaFrentz somehow caught.
6. Steve Nash
 
It's safe to say that Steve Nash would enjoy the modern NBA. In fact, his partnership with Mike D'Antoni in Phoenix helped usher in the current point guard-centric style of play. Nash was one of the best shooters in NBA history, but he was always happier distributing the ball. It wasn't hard to see why when you watched him play. He lead the league in assists five different times, won two MVP awards on the back of his skills as a passer, and was equally effective dropping dimes in the half-court as he was on the fast break.
5. LeBron James
Put aside for a second the fact that he's already 12th (and climbing) on the all-time assists list (#1 for non-guards by a mile) while averaging 25+ points per game for 13 straight seasons. Let's focus on the great passes he makes that don't end up as assists. LeBron creates tons of made shots through hockey assists, or even double hockey assists. He almost certainly has created the most open three point attempts in NBA history. The Cavs offense relies on him getting past his man and making the correct read when the defense collapses. Oftentimes that first pass doesn't lead to a shot, but the Cavs do end up with an open three after the team swings the ball against a scrambling defense, all because LeBron made the right initial read.
4. Larry Bird
 
If you like the NBA and you haven't had at least three sessions of "alone time" with a YouTube queue full of Larry Bird passing highlights, you should be ashamed of yourself. The Bird-LeBron passer comparison is tough (the argument on who's a better player is easier: LeBron is better). LeBron has a slight edge in career assists per game (7.0 – 6.3), but if Bird were to play in today's wide-open game, he would have the ball in his hands even more than he did then. (It was also harder to get credited with an assist back then. You almost literally had to hit a guy going to the hoop for a layup without them taking even a single dribble. The official scorers are far more lenient these days, plus the advent of the three-pointer creates more easy assist opportunities in general.) It is for these (albeit subjective) reasons that Bird ranks slightly above LeBron.
That, and passes like this:
3. John Stockton
 
Bird and LeBron are more exciting passers, and it was tempting to rank them above Stockton, but the numbers are just too insane to overlook. He lead the league in total assists and assists per game for nine consecutive years starting in 1987-'88 while putting up numbers well above today's leaders, despite fewer assists being awarded. He is the all-time leader in assist percentage and BY FAR the all-time leader in total assists. He's also second in assists per game despite playing 19 full seasons (full as in he started all 82 games every one of his last four seasons despite being ages 37-40). Most impressively, he turned Karl Malone into someone who actually won the MVP over Michael Fucking Jordan and someone whom people seriously put forth as the greatest power forward of all time (trust us: he isn't).
Okay, we're kind of joking about the last part, but only about it being more impressive than Stockton's records. Malone was wildly overrated.
2. Jason Kidd


Savant. Genius. Artist. All of them apply. Kidd was poetry in motion. Let's just put it this way: there was a reason the Nets (the Nets!!) made the NBA Finals two years in a row after Kidd got there despite his inability to hit the broad side of a barn (39% and 41% from the field those two seasons). Passing is contagious, and elite passers make more of an impact on a team than anyone outside of a Jordan-level scorer/defender. Kidd was the clearest cut example of that, with the possible exception of…
1. Magic Johnson
 
Were you expecting someone else? We like to take bold stands with these lists, but let's be serious: every other player here would probably have Magic Johnson ranked first. If you're into numbers, he ranks first all-time in assists per game, which seems like a fairly significant statistic. He also wasn't slowing down when he was forced to retire early: he averaged 12.5 assists per game in his last full season. But you don't need numbers to tell you Magic was the best ever. Just sit back and enjoy…