There's nothing better than a good old fashioned sports feud. Who doesn't enjoy watching pure hatred play itself out in the most petty ways possible between two grown adults? Hate is a beautiful thing, and so are jealousy and envy. That being said, let's rank some of the greatest feuds in sports over the past 25 years. Enjoy the pettiness.
No 15: LBJ vs Dan Gilbert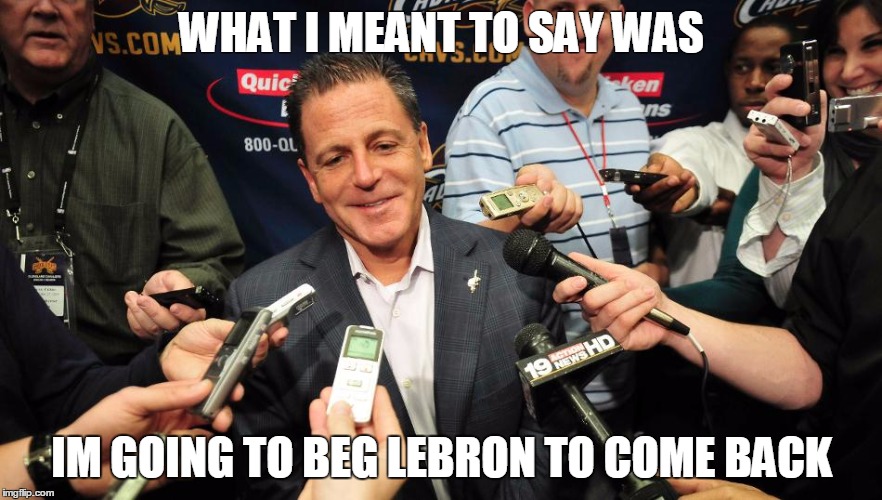 While LBJ may be back in Cleveland, we can assure you that he and Dan Gilbert aren't crushing happy hours together on Cavs off-days. Gilbert infamously wrote a borderline unhinged letter to LBJ and posted it to the Cavs team website when he split for Miami. In said letter, Gilbert personally guaranteed that the Cavaliers would win a title before the "SELF-TITLED FORMER 'KING' WINS ONE!" Funny how things work out.
No 14: Geno Auriemma vs Pat Summitt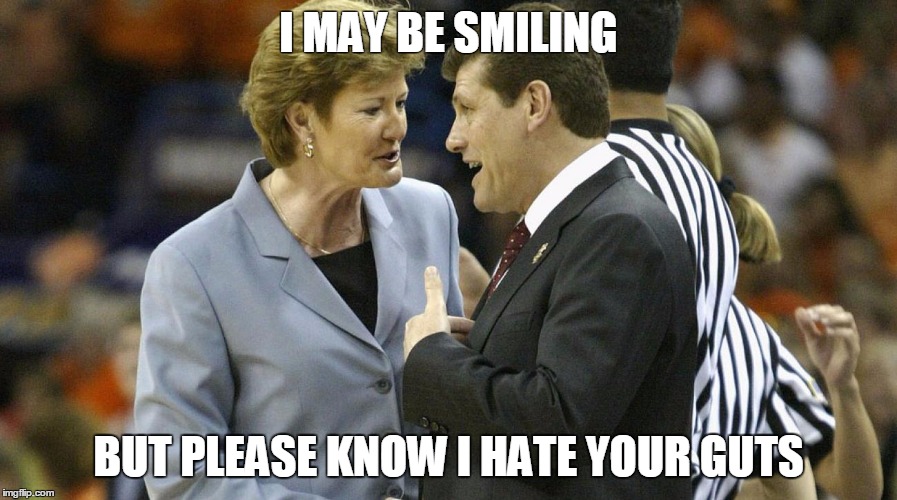 No coach since John Wooden has been able to truly dominate their sport like these two. Every time these two teams have met since 1995, they've both been ranked in the top five. These two larger-than-life coaches were at odds both on and off the court. Their personal relationship really started to deteriorate when Summitt (RIP) accused Geno of using shady recruiting tactics, which led to the yearly series being cancelled in 2007, an inexcusable result for a sport with so few marquee teams.
13: John Rocker vs New York
This is just a snippet of Rocker's rant against New York. He also decided to throw in some homophobic slurs for good measure, as well as make fun of a mythical 20-year-old woman with four kids. Just imagine if Rocker had gone off his rocker – see what I did there – in the social media era. The uproar would have been enough to send ESPN into nuclear meltdown. Same with Twitter. Most of it would be negative (ya think?), but at the same time, Rocker probably would receive more support today than he did then, because of the internet. Either way, a complete shitshow.
No 12: Russell Westbrook vs The World
As soon as KD left OKC, Westbrook went full Superman and decided he would average a triple-double for the entire season to silence the haters. In case you missed the 6,872 stories referencing it, the only other player to do that is Oscar Robertson. It's been a long time since someone has played with this big of a chip on his shoulder for this long, and it was all sparked by KD leaving to form a super-duper-super team in Oakland. Here's hoping he stays mad forever and we get 2016-2017 Westbrook for the rest of his career.
No 11: Randy Johnson vs This Poor Bird
What did this bird do to to you to deserve this, Randy? The only feud on this list to end in bloodshed. Very sad.
No 10: Charles Barkley vs Modern Players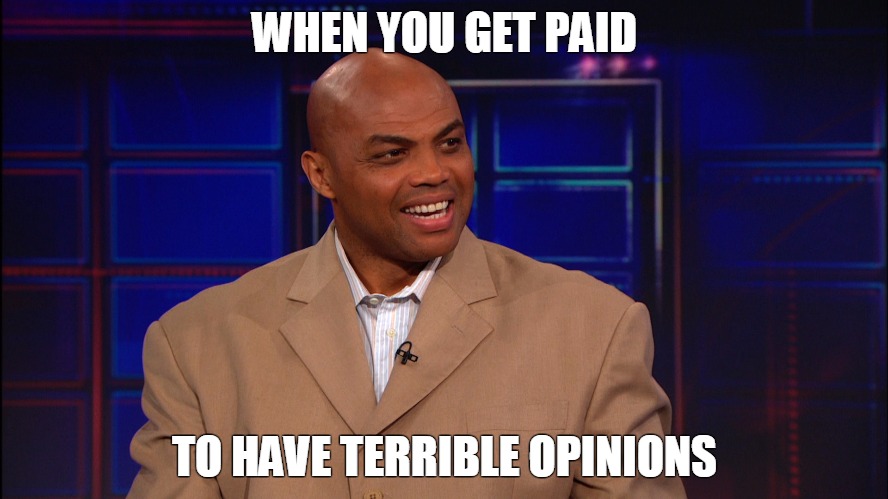 Barkley has been one of the biggest critics of Golden State over the past two years, and late last year said the reasoning was because he didn't like that "girly style" of basketball, AKA perimeter-oriented teams hoisting lots of threes. More recently, he called out LBJ for being "whiny" and added in for good measure that "He doesn't want to compete!" For his part, LeBron fired back with some very specific – and funny – criticisms of Barkley. Sir Charles has also stated that his list of the top five players of all time will never change NO MATTER WHAT. In addition to being another shot at LeBron, it's also a completely indefensible position that makes no logical sense.
No 9: Tiger vs Sergio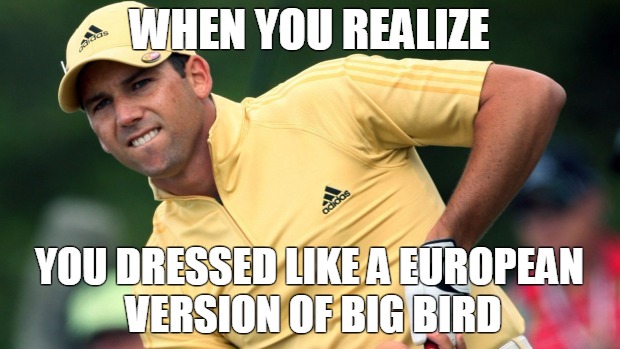 Sitting one stroke back of Tiger Woods, Sergio wore a full canary yellow outfit for the final round of the British Open in 2006. Tiger did Tiger things on Sunday and finished seven strokes ahead of Sergio to get his first major win following his father's death. Even with all of those emotions, he still remembered to send the following text message to a friend: "I just bludgeoned Tweety Bird." Apparently Garcia remembered the slight, because in 2013 he "joked" at the European Tour awards that he would "have Tiger over for dinner every night and serve him fried chicken." Tiger wasn't known for liking many of his fellow competitors, but by opening his big mouth, Sergio fully installed himself as enemy number one.
No 8: Chicago Fans vs Jerry Krause
Most people remember the Bulls dynasty ending because Michael Jordan chose to retire, but Bulls fans in the know still blame Krause. Never very popular with the fans to begin with thanks to ongoing feuds with Phil Jackson, Scottie Pippen, and MJ, Krause desperately wanted to prove he could build a title team from scratch and may have left a ring or two on the table in his zeal to do so. Phil Jackson was probably ready to go either way, and MJ said he wouldn't play without Phil, but with lots of encouragement (and money) from Bulls management, could they both have possibly been persuaded to stick around for another year? We'll never know. Justified or not, Krause takes the blame around town for the end of one of the most dominant teams in sports history.
No 7: Belichick vs Mangini
These two were so close that Belichick spoke at Mangini's wedding. Currently, however, the two haven't had a conversation in ten years because of the drama between them. How did it all start? Mangini ratted on the Patriots for Spygate, which unnecessarily consumed everyone's life for what felt like decades (leading Mangini to regret his actions). Whatever his intentions, Mangini broke Jimmy Conway's code, forever immortalized in Goodfellas: "Never rat on your friends, and always keep your mouth shut."
No 6: Jimmy Johnson vs Jerry Jones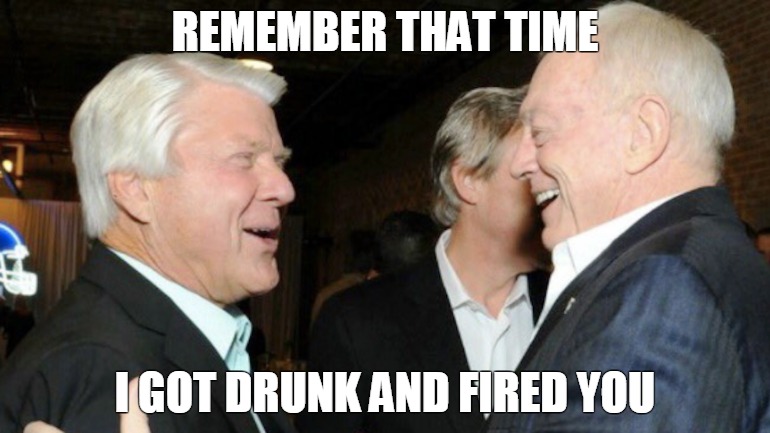 With two egos this big, it's not a shock that Johnson's stint with Jones and the Cowboys was brief. After back-to-back Super Bowl victories, Jones had finally had all he could stand of Johnson and canned him after a night of drinking at the owners' meetings (following several previous spats). Johnson once said, "my girlfriend knows more about football" when asked about Jones. Not to be outdone, Jones stated, "any one of 500 coaches could have won those Super Bowls." Jones was wrong, although he somewhat proved his point two years later when the Cowboys won a title with Barry Switzer, who was more concerned about getting laid during Super Bowl week than game planning as head coach.
No 5: Pete Rose vs Bud Selig
Pete Rose repeatedly asked to have his lifetime Hall of Fame ban for gambling on baseball reviewed, and Selig continuously denied him every single time. Rose's story was always that he only bet on baseball as a manager, and not as a player (as if that's okay). It turns out that wasn't exactly true, as it recently came to light that he consistently bet on the Reds as a player, as well. Rose and his apologists will tell you that he only bet ON the Reds, never against them, but even if that's the case, any time he didn't place a bet on the Reds would be tantamount to betting against them. Selig might pick his nose in front of Congress from time to time, but he still got the last laugh on this one.
No 4: Reggie Miller vs Spike Lee
The Pacers-Knicks rivalry during Reggie Miller's tenure was a thing of beauty, but wrapped up within that rivalry was something even more interesting: a feud between the most famous NBA fan east of the Mississippi and one of the best 3-point shooters in NBA history. Miller was one of the most notorious trash talkers of his time, and Lee was his primary victim, the most noted examples being the choking gesture in Game 5 of the 1994 Eastern Conference Finals, and the 8 points he scored in 9 seconds (followed by a stare down of Lee) during the 1995 Eastern Conference Semifinals.
No 3: Harding vs Kerrigan 
Doesn't it blow your mind that one of the most evil acts in sports history was from the world of figure skating? It doesn't get any softer than seeing who can spin around in circles on ice while wearing sparkly clothing the best. But then Tonya Harding happened. Harding went next level and got her ex-husband and bodyguard to take a baton to Kerrigan's leg in order to eliminate her from competing in the 1994 U.S. Figure Skating Championships. Some truly evil shit. Except that it didn't work and Kerrigan still got the silver medal. It probably even would have been gold if anyone liked her. Regardless, certainly one of the craziest and most enjoyable sports feuds ever.
No 2: Kobe vs Shaq
They both wanted to be the Lone Ranger and neither was willing to be Tonto. While not confirmed, it's pretty widely accepted that Kobe basically made the Lakers choose between him or Shaq. The day after Shaq was traded to the Miami Heat, Bryant signed a brand new contract with Los Angeles. That's not a coincidence. This feud included everything from Kobe accusing Shaq of paying women a million dollars to keep quite about their "rendezvous" to Shaq rapping, "Kobe couldn't do it without me." Except that Kobe did later do it without him. Twice.
No 1: New England Patriots vs Roger Goodell
Goodell and the Patriots do not get along when it comes to any type of gate. Between Spygate and Deflategate, there's enough overblown drama to last a lifetime. The Patriots have gotten caught stretching the rules the same way the majority of teams do in the NFL. However, they're the Patriots, so everything they do is under a media microscope. Even if you feel strongly about their guilt, it's hard to argue that the NFL handled either situation well. The Patriots may have gotten the last laugh at the 2017 Super Bowl, as Goodell had to hand Robert Kraft the Lombardi Trophy, but the ill will between the NLF league office and the Patriots organization (along with pretty much all New England-based media, not to mention fans) is very much still there and hasn't subsided as much as you may think.