It's finally that time of year again! After a regular season that is about 15 games too long (but won't be shortened anytime soon), the NBA playoffs are officially here. Who cares if there are only a couple teams with a realistic shot of winning the title? The league has never been deeper – or better – and there are a handful of tasty matchups across the board (i.e. Harden v Westbrook). Also, no matter who wins the title, it will be a great storyline (LeBron winning again, KD winning his first, Pop winning his sixth). And if anyone else wins it will be a great cinderella story. Here are 20 fearless predictions to guide you through:
1. The Celtics Will Be Exposed
Celtics fans (and other NBA observers) somehow think of them as a contender that's one piece away, rather than a rebuilding team that just happened to get good in the meantime. There shouldn't be much doubt which is true after they lose in the second round to Washington (or Atlanta). And there really won't be any doubt if they lose to Chicago in the first round (a distinct possibility). The Celtics have a very bright future. The key word in that sentence is future.
2. Toronto Will Push Cleveland the Furthest
It looks like they will meet in the second round rather than the Eastern Conference Finals, but either way, the Extinct Dinosaurs should give the Cavs their toughest test on their way to the Finals. Expect the series to go six games (possibly seven). It looks like Kyle Lowry's wrist should be mostly healthy by the time the second round kicks off, and beyond that, Toronto is a deep, tough, well-coached team that's been preparing the entire year to face LeBron and company. In addition to Kyle Lowry and DeMar DeRozan, Serge Ibaka should give Kevin Love some trouble, and PJ Tucker will provide the requisite level of feistiness/fearlessness that's necessary in a hard-fought playoff series.
3. Klay Thompson Will Drop 50 Points in a Game
More broadly, a Warrior will drop 50 in a playoff game, but with KD coming off an injury, Steph having to fulfill his point guard duties, and defenses geared toward stopping both of them, Klay is the most likely to do it. Not to mention the fact that he already dropped 60 points in 29 minutes earlier this year and will be playing extended minutes in the playoffs.
4. Only One Person Will Contact ESPN Complaining About Sage Steele Being Removed from Their NBA Pregame Coverage
Her mom.
5. Kawhi Leonard Will Make Another Leap Offensively
Kawhi may have improved his jumper more than any player in the league since he was drafted. Still, though, he's seen more as a physical freak and defensive stud who just happens to be pretty good at offense, rather than the two-way terror he has become, at least among casual fans. That should change this spring. In order for the Spurs to get past Houston in the second round, Kawhi will have to up his offensive output the same way Tim Duncan did so many times in the playoffs. Averaging 30+ PPG while shooting 50% from the field, 40% from three, and 90% from the line should do the trick.
6. The Lakers Will Win the Draft Lottery
And Boston will finish second. The Lakers will take Lonzo Ball #1 and the Celtics will end up with Markelle Fultz. Both Danny Ainge and Magic Johnson will be very happy. Just remember this about Adam Silver: he spent a lot of time by David Stern's side before taking over his job.
7. Russell Westbrook Will Have Better Numbers Than James Harden in Round 1
He will average a triple-double in the first round as well, although at this point that's just normal for him. In the playoffs he will play even more minutes and trust his teammates even less (but probably still enough to get ten assists). The one flip side to that is that he may not be able to chase triple-doubles so blatantly, because (at least theoretically) he will have to put every ounce into winning the games. Still bet on the averages panning out though.
8. Westbrook Will Also Win the MVP
From this day forward, the MVP trophy will be a statue of Russell Westbrook flipping the double birds. Look for the voting margin to be wider than expected. Right now, it feels like a very close two-man race between Westbrook and Harden – don't expect LeBron and Kawhi to get many first-place votes, and look for Russ to get significantly more than The Beard (which is a shame, because Harden was the more valuable player this year).
9. But Harden Will Win the Series
It won't be totally about his supporting cast being better, either. In fact, who says it is? All this talk about the Thunder being hopeless and/or dreadful without Westbrook is crap. If anything, we discount his teammates because they never get the ball from him to show what they can do. Westbrook's combination of numbers, heroics, and workload will probably add up to an MVP, but Harden actually gets his teammates involved willingly, not just as a means to an end of double-digit assist totals. That matters, because this is still a team sport, not baseball, where Barry Bonds can be completely out for himself and still not hurt the team at all (at least on the field).
10. The Whole Country Will See What All Spurs Fans Have: LaMarcus Aldridge is NOT the Answer
How does 17 and 7, despite playing 72 games and averaging over 32 minutes per contest sound? How about 14.2 points and 4.6 rebounds per game in April? This guy averaged 23 and 11 just three years ago. He's only 31. It makes sense there would be some sacrifice playing for the Spurs, but any notion that Kawhi and LaMarcus would be a two-headed monster has long gone by the wayside.
11. All the Higher Seeds in the East Will Advance
Cleveland ain't losing. Boston probably isn't either, despite the #1 item on this list. Atlanta is talented, but Washington matches up really well with them, and Toronto is just a better team than Milwaukee with Kyle Lowry in the lineup. Over seven games, the better team almost always wins.
12. Utah Will Be the Only Lower Seed to Advance, But It Won't Be an Upset
How long are we going to be seduced by the Clips? Doc doesn't appear to be thriving in the dual head coach/GM role. There is a strong argument to be made that he hasn't been good at either one recently. The Jazz can be exposed – the Warriors picked them apart in December and the Celtics beat them in Utah in February – but LA isn't the team to do it. The teams with the most success against Utah manage to play small ball on offense and draw Rudy Gobert away from the paint, while managing not to get crushed too badly at the other end due to their size disadvantage. With DeAndre and Blake making up 2/3 of the Medium Three, they play right into Utah's hands.
13. Isaiah Thomas Will Make At Least a Dozen WTF Layups
Boston fans have been clued into this all season, but national fans will get a chance to witness IT's superhuman finishing skills, especially over length. He consistently makes layups (always lefty) over big men who he has no business finishing over. Whenever he drives into the lane to attempt one, the odds seem stacked against him, but most of the time he finds a way to use his body as a shield and make the layup.
14. The Best Series to Watch Will Be Warriors-Rockets, But It Won't Happen
Unfortunately for the viewing public, once the playoffs start, Team Kawhi will have the advantage over Team Harden in their likely second round matchup. Luckily, Spurs-Warriors will also be must-see TV.
15. David Blatt Will Get Another Coaching Job
Kidding! Do yourself a favor and pick up Brian Windhorst and Dave McMenamin's new book Return of the King for a behind-the-scenes look at just how overmatched the insufferably arrogant Blatt was while attempting to coach the Cavs.
16. The Clippers Will Be Broken Up
This can't officially happen before the playoffs are over, but expect the Clips to exit in the first (maybe second) round and for Doc Rivers and/or Steve Ballmer to publicly acknowledge the end of the Medium Three era in La La Land…
17. Malcolm Brogdon Will Win Rookie of the Year
Joel Embiid is obviously better, Dario Saric looked more impressive for much of the year, and Jaylen Brown should leapfrog past him this offseason, but Brogdon put up good numbers for a good team and looked like a veteran doing it. Voters love that shit. Plus, he shot 40% from three on a team that badly needed it. Brogdon will be the first second-round pick ever to win the award and the first rookie taken outside the lottery to win since Mark Jackson in 1988.
18. The Warriors Won't Be Challenged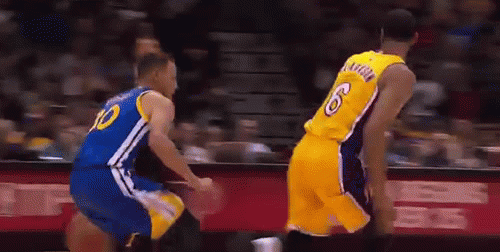 Not exactly going out on a limb, but it needs to be said, especially after LeBron's performance last year and the KD injury this year. Houston and San Antonio each have one All-World player and a good supporting cast. That isn't enough to knock off the Dubs. The Cavs may have more firepower, but they still aren't at the Warriors' level, and while KD will be playing with relatively fresh legs, LeBron will be coming off an epic six-year run of heavy use that's more or less unparalleled in modern NBA history. He also (inexplicably) led the league in minutes this year. Expect the Finals to be over in five, maybe six, games.
19. Kevin Durant Will be Named MVP, Kicking Off the "Summer of KD"
In case you weren't paying attention, KD has quietly become one of the most honest people (and one of the best interviews) in sports since moving to the Bay Area. He's also the best player on the Warriors. All that's left is for him to climb to the top of the sports world and bathe in the adoration he deserves. Expect a book, a movie cameo, and some candid photos of him celebrating in some really cool looking spots across the globe.
20. Joe Lacob Will Be Even More Insufferable Than Usual in Victory
If you read this New York Times piece, it may be hard to imagine the Warriors' principal owner being any more smug, but if when his team wins it all again this year, expect that piece to look humble by comparison. The guy just can't help himself. Specifically, I expect some sort of quote explaining why going Title/73 Wins/Title is actually more impressive than a three-peat. Seriously, the guy is a boob…