NFL teams spend all year preparing for the draft, so it's only fair we grade their efforts. Drafting is always a crapshoot at some level, but while some NFL front offices play checkers, others play chess. Let's see which teams were able to maximize their draft assets to the greatest degree.
AFC EAST
Buffalo Bills: C
The Bills began by trading out of the tenth overall pick so KC could move up to grab Pat Mahomes and ended it by firing their entire front office, who presumably spent the weekend wondering who the Bills would take like everyone else. Head Coach Sean McDermott is the new power in town and he had a strong first draft. He picked up much-needed ammunition by trading down out of No. 10, picked up a replacement for Stephon Gilmore at No. 27 in Tre'Davious White, scooped up the underrated Zay Jones at 37, and took Pitt QB Nathan Peterman in the fifth round. Peterman is already Pro-ready and has as much chance as any QB in this draft at becoming a decent starter.
Miami Dolphins: C+
Everything about the Dolphins is just blah. Their fan base, their QB, their coach, and finally, this draft. Charles Harris from Missouri was a decent pick at No. 22 overall, but doesn't really move the needle. Neither does second rounder Raekwon McMillan (outside of his amazing name, which we sincerely hope was an homage to the Wu-Tang Clan member). As Mel Kiper said, he would have been a great pick 20 years ago, but these days, linebackers need to be able to cover.
New England Patriots: B+
The Patriots turned their 2017 Draft capital into a huge haul, both over the weekend with their actual picks, and through trades leading up to the Draft. They grabbed Brandin Cooks, Dwayne Allen, Kony Ealy, and Barkevious Mingo via trade and then relinquished a fifth-round pick in order to sign Mike Gillislee from the Bills. With what was left, they snagged two exciting prospects who also happened to fit two of their three biggest needs. Oh yeah, they also managed to hold onto Jimmy Garoppolo and Malcolm Butler.
New York Jets: C+
The Jets are apparently really into stocking up at one position. After spending roughly eight consecutive drafts taking elite defensive linemen in the first round, they shifted their focus further back and took safeties (including all-world LSU strong safety Jamal Adams at #6 overall) with their first two selections, despite having 2014 first-rounder Calvin Pryor on the roster. Then they went and took two WRs with their next two picks. If Noah had spent his time assembling a football roster instead of building his ark, it probably would have looked like this.
AFC NORTH
Baltimore Ravens: B+
If you're a physical defensive player for 'Bama, you should probably order some crab cakes and fire up Season 1 of The Wire, because chances are Ozzie Newsome is going to draft you for the Ravens. Marlon Humphrey and Tim Williams will join CJ Mosley and Courtney Upshaw on Baltimore's revamped defense. That's no surprise, considering the time Nick Saban and Ozzie Newsome spent together in Cleveland. What is a surprise is how little the Ravens did to upgrade a sputtering passing game. They should have gone with a different Alabama player – OJ Howard – over Humphrey in the first round.
Cincinnati Bengals: B
Another draft, another "misunderstood" criminal off the board for the Bengals. Joe Mixon is an awful smooth runner, but he's better known for his right cross, and for using it to knock a co-ed out cold at Oklahoma. However, the Bengals are building a football team, not a UN peacekeeping mission, and Mixon is a potential impact player. So is first-round pick John Ross of the 4.22 40 fame. Throw in two steals on the defensive line in Jordan Willis at No. 73 and Carl Lawson at No. 116 and Cincinnati did well by themselves. Now if only their QB was the answer…
Cleveland Browns: A-
So who's going to play Sashi Brown in Moneyball Part 2, opposite Jonah Hill reprising his role as Paul DePodesta? Whether it was analytics or just common sense, the Browns kicked off the first weekend of the rest of their lives by nailing the 2017 Draft. They picked up the best player in Myles Garrett, the most versatile in Jabrill Peppers, the most underrated in Miami TE David Njoku, the QB with the biggest upside in DeShone Kizer, and the all-time FBS leader in field goals in Arizona State kicker Zane Gonzalez in the sixth round. In between, they added a handful of linemen, a move that added much-needed depth. Let's not get crazy and say they've figured it out, but just passing on Trubisky in the first round was a sign of progress for them, and if they don't let dingbat owner Jimmy Haslam screw it up, they may actually have some momentum on their side for once.
Pittsburgh Steelers: B-
The Steelers took a lot of players who are hard not to like, but the positions they targeted seem a little strange. It's hard to imagine a Watt brother (in this case Wisconsin LB TJ Watt) being anything other than a true professional, but the Steelers have now taken a linebacker with four of their last five first-round picks, and their defense doesn't seem to get much better. The same thing was true on the offensive side of the ball: JuJu Smith-Schuster is a good WR prospect and Joshua Dobbs has long-term potential at QB, but they both play positions the Steelers are already stacked at. Not exactly the perfect formula for doubling down on Big Ben's final few good years.
AFC SOUTH
Houston Texans: A-
The Texans' draft really boils down to how you feel about Deshaun Watson. We like everything about him except for his inability to sit and stand in the pocket and pick apart the defense, which unfortunately happens to be a pretty fucking big deal. If anyone can improve on that, though, it's Watson. He already has the leadership skills, the mobility, and the ability to throw on the run that you want in a elite NFL QB. This will be a good test of Bill O'Brien's prowess as a mentor, because he's got the perfect student in Watson.
Indianapolis Colts: C+
All Colts fans should be delighted that Ryan Grigson is gone and wasn't in charge for this go-round. That alone might equal a good grade. They stuck to the secondary for the first two rounds, getting lucky in the first when Ohio State free safety Malik Hooker fell to them at 15. He might not be able to tackle your grandmother, but he takes the ball away and doesn't let anyone get behind him, and in the modern NFL, that matters a hell of a lot. CB Quincy Wilson from Florida was a ho-hum pick in the second. The Colts did take USC tackle Zach Banner in the fourth round, but it feels like too little for a team that saw their franchise QB running for his life last year.
Jacksonville Jaguars: C-
Tom Coughlin coming back to run the Jags feels awfully Phil Jackson-ish, especially the commitment to a philosophy rooted in the past. Phil insists on the Triangle and poo-poos threes, while Coughlin clearly still believes in a stuff-it-down-their-throat formula rooted in the early '90s. How else can you explain taking a one-dimensional power runner with the very valuable fourth overall pick? If you're going to go RB, at least go with McCaffrey, who has the potential to catch 80+ balls and to be an escape valve for Blake Bortles. They salvaged the draft a little bit with Cam Robinson in the second round, but the Jags remain stuck in the past with a QB who isn't good enough.
Tennessee Titans: B+
Marcus Mariota + Brand New Weapons = Sleeper Contender in the AFC. Tennessee skipped out on addressing either line until after the fourth round, but they took the top receiver on their board – Corey Davis – at No. 5 overall and talented USC corner Adoree' Jackson at No. 18. Then they went back to the offense well and took another receiver and a tight end with their next two picks. Along with Mariota, cornerstone tackle Jack Conklin, and DeMarco Murray/Derrick Henry, their offense may be set for the next 3-4 years. Taking OJ Howard over Jackson to pair with/replace Delanie Walker could have put their attack over the top, but it's hard to fault them for trying to keep their defense up to speed with their offense.
AFC WEST
Denver Broncos: B
They may have overlooked better tackles like Cam Robinson when they took Garrett Bolles (who may or may not have the largest head in recorded human history) with the 20th pick, but the rest of their draft made sense from a need perspective. DeMarcus Walker was a good fit at No. 51 overall and Michigan TE Jake Butt was a steal in the fifth round. John Elway has the advantage of not giving a fuck what people think; sometimes that causes him to swing for the fences, but this year he was content with singles and doubles.
Kansas City Chiefs: C-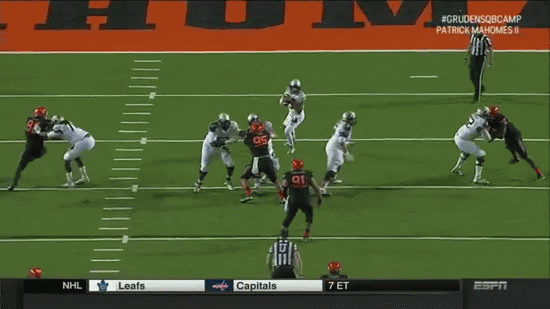 KC gave up a lot of draft capital to move up to No. 10 and draft their potential QB of the future. The problem? That QB was Pat Mahomes. We acknowledge that sitting for at least a year and being tutored by (former Brett Favre whisperer) Andy Reid is the best situation for Mahomes, but we still hate him as a prospect. Big arms are overrated and quarterbacks who treat college games like backyard flag football rarely turn into disciplined field generals in the NFL. The only thing keeping this from being an even worse grade was the good value they got taking Villanova DE Tanoh Kpassagnon 59th overall and Toledo RB Kareem Hunt 86th overall.
Los Angeles Chargers: B+
Solid draft for the newest residents of LA. They decided to go out and complement Philip Rivers rather than replace him, and Mike Williams from Clemson at No. 7 overall and Forrest Lamp from Western Kentucky at No. 38 fit the bill perfectly. In both cases San Diego stood pat and took a quality player that also fit a need. As to whether building around Philip Rivers can get you anything other than a first round playoff loss, that's a different story altogether.
Oakland Raiders: C+
This grade could be an incomplete, considering they took Gareon Conley (video above via the great folks at Draft Breakdown), who was accused of rape in the days and hours leading up to the Draft. He could conceivably serve time behind bars, but it's more likely he'll skate like most other accused NFL domestic abusers. Before the first round started Thursday night there were rumors of exonerating evidence, and the Raiders must have felt confident that Conley wouldn't be arrested and/or convicted. In the second round they stuck to the secondary, snagging safety Obi Melifonwu from UConn, before over-drafting UCLA DT Eddie Vanderdoes in the third. Conley is the key here: if this rape accusation blows over and he stays out of future trouble, he has the talent to be a serious difference maker at the second most important position on the field (and a great position of need for the Raiders). If not, the pick has a chance to turn into a complete waste (in addition to a PR nightmare).