Jerry Jones may own America's team but his soul sings the tune of Canada's hardest rockers..
No 4: "Cause we all just wanna be big rock stars/  And live in hilltop houses driving fifteen cars/ And we'll hang out in the coolest bars/ In the VIP with the movie stars" – (Rockstar, 2005)
Jerry will be the first one to tell you to be a rockstar you have to have two sets of moves; one for the dance floor the other for the bedroom.
No 3: "Time, is going by/ so much faster than I/ and I am starting to regret/ not spending all of it with you" (Never Gonna Be Alone, 2008)
Jerry has a new quarterback in town and the only way he can express how good he feels is by singing the song that's within his heart. Which is of course written by Nickelback.
No 2: "I have the photo album spread out on my bedroom floor/ It's hard to say it/ Time to say it/Good bye, good bye" (Photograph 2005)
Jerry is thrilled with how Dak Prescott is playing but that doesn't mean he isn't having a hard time saying goodbye to his friend, his confidant, his golden girl Tony Romo.
No 1: "Lookin' like another Bob Marley day/ Hittin' from the bong like a diesel train/ And I'm down with hanging out this afternoon" (This Afternoon 2008)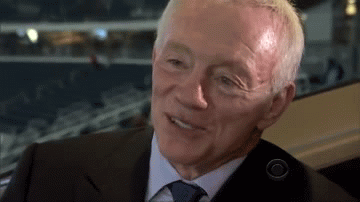 Snoop Dogg and Jerry Jones have a lot in common, but mostly it's a love of Martha Stewart and the act of hittin that bong daily.