I woke up on Friday, February 24, 2017 with a headache. It wasn't because my beloved Boston Celtics didn't make a deal; it was from listening to the hordes of media opinion-givers talk about how they lost the trade deadline. I get (way more than most) why people need things to write about. Fuck, I would live-blog the instillation of my dad's colostomy bag (or at least assign an intern to do it) if I thought it would get clicks (sorry Dad, I know you don't have a colostomy bag…yet). Yet some of the takes floating around on these Intranets (with the notable exception of…surprise, surprise, Zach Lowe) have landed somewhere between misguided and as factually incorrect as the math test in 6th grade on which I scored 13%. Before I digress any further, here are four reasons why the Celtics did not lose the trade deadline.
No 4: Many Of Their Core Players Are Underrated
If you aren't very knowledgeable when it comes to basketball, I don't know how to change that, except for forcing you to read every Zach Lowe and Bob Ryan column ever (along with this), but Avery Bradley, Marcus Smart, and Jae Crowder are very good basketball players. Do you win titles if they're your best players? Of course not. But you also don't casually toss them into deals for flashy names.
Bradley is among the most underrated players in the league (just ask his opponents) and I wouldn't be surprised if the Celtics valued Crowder at a similar level to Isaiah Thomas. As for Smart, he's on the way to becoming a 6'3 version of Draymond Green and the best player in the league who can neither create his own shot, get to the rim, nor finish consistently at close range. But for now, he seems to get better every game. The Celtics aren't dealing two out of the three (as the Pacers had apparently wanted in addition to current rookie Jaylen Brown and the 2017 Nets pick) for one really-good-but-not-great talent like Jimmy Butler or Paul George.
*Link?
To win, you need tough two-way players who can guard multiple positions, and it's hard to replace them because it's hard to find players who are better. Ideally, you turn one of them into a scorer who can create his own shot (maybe Brown takes over Bradley's role and they let Avery walk in free agency) and keep the other two, but if they were to trade two or three of them plus a top pick or two, it can only be for a Towns/Durant/Anthony Davis-level stud who can help do what KG did for the 2007-2012 Celtics.
No 3: Jaylen Brown Will Be An Elite Talent
I was against the pick. I thought the 2016 Draft sucked after Simmons and Ingram, and it was best to take a shooter like Jamal Murray and move on. Fortunately for Wyc Grousbeck, he doesn't have me running his team. Fuck the numbers (although they improve almost night to night at this point) – they don't tell the whole story. Brown is playing on a playoff team with a very serious coach, so they're never going to let him just "get his" at the expense of the team the way that some high lottery picks are allowed to.
You have to watch every game, every single night, like I do (here's where the joke about my fiancée calling off the wedding would normally go, but she's just as big a Celtics fan as me) to understand what this kid is. And that is a strong, athletic, tough, versatile defender who may already be one of the few people in the league who can guard Kyrie, JR Smith, LeBron, and Kevin Love. He also possesses a first step so explosive that he won't even need a great jumper to be a good scorer in this league. He's already shooting 33.3% from the 3-point line. Even if he never improves that number (and trust me, he will), that's good enough to keep defenders close to him, allowing him to blow by people repeatedly to score or get fouled at the rim.
Despite having plenty of room to improve in his shooting, passing, and finishing at the rim, Brown's ability to get to the hoop alone should allow him to score around 20 PPG while being a giant plus on the defensive end. If he truly refines his offensive game, the sky is the limit. That makes him a high-floor, high-ceiling prospect, AKA not the kind of player you trade easily.
No 2: This Draft Is Truly Legit
The Celtics have a 25 percent chance to get the No. 1 pick, a 21.5 percent chance to get the No. 2 pick, a 17.8 percent chance to get the No. 3 pick, and a 35.7 percent chance to get the No. 4 pick. That last number sucks for the Celtics and made the 2017 pick more tradable, but even if they were to fall to No. 4, they could still come out of this draft with a cornerstone.
If you get No. 1 you take Markelle Fultz, no questions asked. The kid is the complete package. At No. 2 Lonzo Ball is the best bet: a transcendent passer who can also hit threes and has great size for a PG. He's also the type of player who always makes his team better. I bet both are All-Stars, and Fultz may be a superstar.
But there is a greater than 50/50 chance the Celtics slide past the second pick. What happens then? Will they instantly regret not dealing the pick at the deadline to a team with dreams of Fultz and Ball dancing in their heads? Not so fast…
Josh Jackson and Dennis Smith Jr. are likely to be the third and fourth picks in some order and would probably be the most likely options for the Celtics, although Malik Monk and my personal favorite Jonathan Isaac could be options as well.
Josh Jackson was considered the typical athletic 3/4 who does everything well except space the floor, but over the past ten games for Kansas, he's been hitting threes at a rate of over 50 percent, therefore raising his ceiling as a player. Should his shooting continue to improve, he appears to be a potential terror playing alongside Jaylen Brown in the future.
Smith is just the type of player poised to dominate in the Celtics' spread offense: an elite athlete who can get by anyone and can make enough threes to keep the defense honest. You can't play him with Isaiah Thomas due to size concerns (he's 6'2), but he could be the perfect replacement for IT should the diminutive All-Star leave in free agency, and perhaps an even better all-around player in the long run (Isaiah is not a good defender).
Which leads us to…
No 1: Nothing Else Matters Besides Titles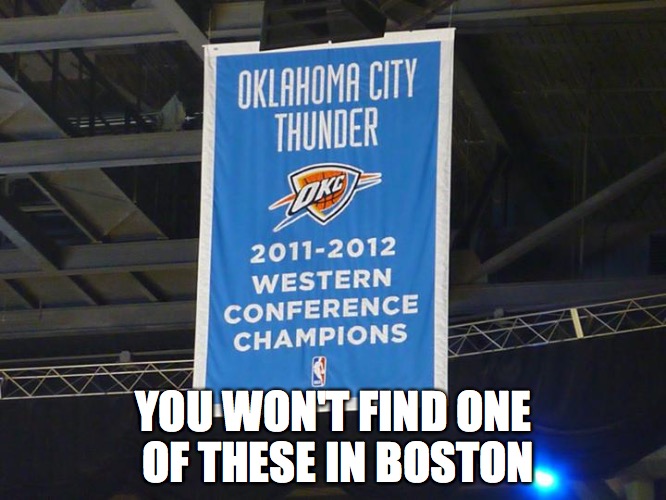 Who says Isaiah Thomas even has to be part of the long-term plan? He's easily one of my favorite Celtics ever, but his pick-and-roll defense is brutal (due to his size), and as long as he's the starting point guard, the Celtics are going to have to go out of their way to compensate for him. Pick-and-roll defense is ultra-important in today's NBA, and if they can develop other players who feel comfortable initiating offense with the ball in their hands, the best move for future success may be a clean break.
Say they get the No. 2 pick, take Lonzo Ball, and then either trade Isaiah Thomas or let him go after a year. Then they keep the 2018 Nets pick and end up at No. 3 overall. 2018 is loaded with big men, and DraftExpress.com currently has Mohamed Bamba (7'8 wingspan!!!!) slotted at the No. 3 spot.
So then imagine a young core of Lonzo Ball, Jaylen Brown, and Mohamed Bamba, complemented by an aging but wise Al Horford, Marcus Smart, and either Jae Crowder or Avery Bradley (plus whatever other additions they make). The timeline may be pushed back a bit – and there will be growing pains along the way – but you would be looking at a phenomenal young core poised to compete for the next decade. And this is even assuming they don't end up with the No. 1 overall pick either year.
Now compare that to dealing Brown and the 2017 pick for a player like George or Butler who will absolutely, positively NOT get you over the hump and past the Cavs, never mind the Warriors. Frankly, I bet Danny Ainge is designing this entire process with the Warriors in mind, knowing that it would take a TON to surpass them any time in the next two to three years and that the window after that is the one to shoot for.
So be patient, Celtics fans: you're lucky enough to have an ownership group who takes the long view. Yes, it sucks losing to Toronto and watching a player you could have had (Serge Ibaka) play his ass off, but neither Boston nor Toronto are winning the title this year, so in the grand scheme of things, it really doesn't matter. Banners are what matter, and not the kind they give you for winning the conference.