There are successful head coaches, and then there guys who could run for governor tomorrow and win BY A LANDSLIDE. Guys who have the ground they walk on worshipped by state residents. Guys who could demand the first born of all families and get them. Some are already "public servants", with these coaches being the highest paid public employees in their home state. Here are 7 coaches that could become governor of their respective states tomorrow.
No. 7: John Calipari – Kentucky
In 2009, John Calipari set the University of Memphis ablaze, jumped from the penthouse suite, and landed safely into a cushy rescue net held by the big blue nation, blue chip recruits, and millions of dollars. After a decade of failing to reach the Final Four, Calipari put Kentucky back on the map as one of the preeminent, if not THE most preeminent, college basketball program in the country. In just seven seasons, he's amassed an incredible 220-47 record, four Final Four appearances, one national championship, and countless #1 recruiting classes. Seeing as the entire state of Kentucky bleeds Wildcat Blue, he shouldn't have much of a problem becoming governor. Not even with Pitino there.
No. 6: Bob Stoops – Oklahoma
After missing out on a bowl game for five straight years, the University of Oklahoma hired Bob Stoops in 1999. He broke the drought in just his first season. His second season? Went undefeated and won the national championship. NBD. From there, Stoops went on to amass a 189-48 record, while winning Big 12 Coach of the Year five times, NCAA Coach of the Year twice, 10 Big 12 titles, and one national championship. Forget first borns and the gubernatorial. Bob Stoops would be able to claim some of Harold Hamm and George Kaiser's oil rigs. If he stops losing big games he may even be able to run unopposed.
No. 5: Pete Carroll – Washington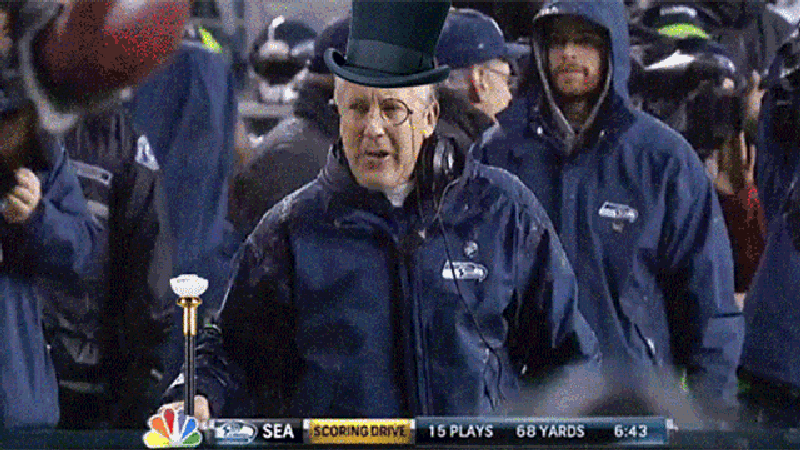 Before abandoning ship, or should we say trojan horse, Pete Carroll could literally walk the streets of South Central and Compton unaffected, as he was a regular at gang "hot spots". Someone who could manage the streets of Southern Los Angeles would have no problem in the rolling hills of Washington. In just six years, Pete Carroll has lead them to two Super Bowls, and won one. With charisma to spare, he'd have little trouble on the campaign trail. At least until voters found out he's a 9/11 truther. 
No. 4: Jim Harbaugh – Michigan
Everything in Ann Arbor changed from the moment Jim Harbaugh stepped onto campus in his $8 Walmart khakis. And it showed. After a losing season and missing a bowl game for just the third time since 1975, Harbaugh led the Wolverines to a 10-3 record and won the Citrus Bowl. This year, Harbaugh had Michigan as a CFP team for nearly the entire year until Meyer and folk shut down the party. Whatever. Michigan LOVES this guy. And if they didn't elect him governor, he'd just scream at a bunch of people and take office anyway.
No. 3: Urban Meyer – Ohio
After tattoogate and Jim Tressel's "resignation" or "retirement" or whatever lipstick you want to put on that pig, Ohio State hired spread offense savant Urban Meyer to save the program. In just his first season, Meyer and the Buckeyes went undefeated. He would go on to win the first ever College Football Playoff after not even Meyer's mother gave them a chance, and has amassed an amazing 61-5 record in just five years. Oh yea, and he's undefeated against Michigan. This guy could stand in the middle of 5th Avenue Woody Hayes Drive and shoot somebody and wouldn't lose voters.
No. 2: Bill Belichick – Massachusetts
Emperor Palpatine. Lord Sidious. The Emperor. Whatever you want to call him, Belichick could tell all of New England, let alone Massachusetts, to jump and they'd ask, "how high". What Belichick says, even in the minimal phrases he uses, is gospel in New England, seeing as he created a Hall of Fame/American Hero/Golden Boy quarterback out of nothing. The hoodie is the greatest coach ever and would only have to say, "we're on to running for governor" and they'd have a bible in front of him.
No. 1: Nick Saban – Alabama
Less like a layup and more of a self pass off the backboard slam dunk, there isn't a more obvious case for a head coach who could become governor of his state tomorrow. After going a decade without winning the SEC title, considered blasphemy for one of the most storied college programs, the University of Alabama hired Saban to be it's messiah and Nick arisen. He's won four national championships in nine seasons, basically averaging a natty every other year, and is the country's highest-paid public employee. The man is Alabama. If anything, state residents would push for a monarchy and declare King Saban law for centuries to come. Roll Saban 2017.