Like his son in the NBA, LaVar Ball will be a first round draft pick to whatever league Joe Jackson and Kris Jenner belong to. Whether you agree with the way he handles his children's success or not, you can't deny how diabolical it is. This is a guy who was counting the future value of his kids' endorsement contracts while they were still in diapers. As Lonzo says, "He's always been like that my whole life. It's nothing new to me. He's got a camera in front of his face, so y'all are seeing it for the first time."
Hmmm, sounds like someone else in the greater Los Angeles area.
Here are six reasons why LaVar Ball is already the Kris Jenner of sports:
7. He's At His Best For Lonzo's Biggest Day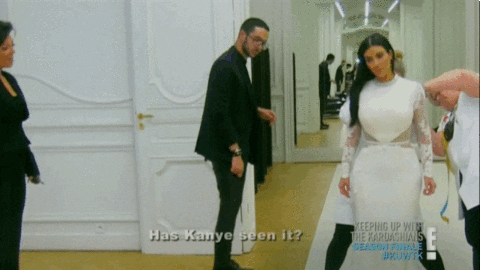 Just before Kim Kardashian's wedding, Kris Jenner got a neck and face lift to guarantee she'd be at her best for Kim's big day. She said the procedure was a "transcendental, life-changing experience." Similarly, LaVar made sure he'd look his best just before Lonzo's big day (the opening of the NCAA tournament) by saying he would have "killed Michael Jordan one-on-one" while demanding a billion dollar shoe deal for all of his children. If only Kris Jenner had thought to demand a billion dollar Christian Louboutin deal for her cash cow kids.
6. He Protects His Family
In the Kardashian household, Kris Jenner has a table with hundreds of nondisclosure agreements ready to be signed for anyone who enters. Similarly, LaVar makes sure that whenever someone comes to the Ball household to solicit Lonzo's services, LiAngelo and LaMelo get theirs too. Whether it's a basketball scholarship to UCLA or a sneaker deal, LaVar guarantees that all of his kids are financially protected.
5. He Teaches His Kids To Honor Tradition
When Kim Kardashian was offered the opportunity to pose for Playboy in 2007, she initially hesitated. Kris, on the other hand, was all for it. Even when Kim refused, Kris told her to honor the tradition set by Marilyn Monroe, Farrah Fawcett, and Janet Jackson. Similarly, in addition to having them attend UCLA – the most tradition-rich basketball school this side of Lawrence, Kansas – LaVar said his children will honor the example set by Carmelo Anthony, Kevin Durant, Kyrie Irving, and so many other NBA greats: leaving for the pros after one year.
4. He's An Endorsement Machine
Kris Jenner has been associated with a variety of endorsements over the years, including a vodka-based nutritional drink, female viagra tablets, and incontinence pads. Similarly, LaVar has already launched his own lifestyle apparel company and begun soliciting endorsement deals for Lonzo. Money over everything.
3. He's A Momager
A "momager" is a parent who pushes their child or children into show business at the risk of their mental and physical health and without any regard to their social development or privacy. Kris Jenner embodied the term so much that she tried to trademark it. Similarly, LaVar is thrusting all of his kids into the NBA, when LiAngelo just wants to write poetry and shuck corn. Luckily for whoever drafts him, Lonzo appears to be completely unfazed by LaVar.
2. He Profits Off His Children
When Kris Jenner took a lie detector test, she was asked whether she'd ever taken more than her ten percent cut from her children's earnings. The result was conclusive. Similarly, it's safe to say that whatever cut LaVar gets from his children's earnings, it's conclusive it will be in the millions.
1. He's Already Discussing a Reality Show With E! Network
We can report that LaVar has been speaking with the E! Network about a potential reality show. Will it get made? Who knows. BUT, if it does happen, it would be literally the most Kris Jenner thing ever…