Have you ever had one of those dreams where you look down and all of a sudden realize you've been horribly maimed, only to wake up a moment later, sweating and cursing? Well these athletes actually lived through it. Sports parents and the faint of heart beware.
No 8: Jeremy Lane
Jeremy Lane's rubberized arm seems like a good way to ease into the carnage…
Nos 7, 6, and 5: Kevin Ware, Djibril Cisse, and Paul George
Every athlete's worst nightmare: the classic foot-pointing-the-wrong-way scenario.
No 4: Taylor Hall
It's painful enough to have your head split open by a skate, but the fact that Hall's injury occurred in warmups at the foot of his own teammate adds insult to injury.
Speaking of getting sliced open by an ice skate…
No 3: Clint Malarchuk
After having his throat cut like that guy in Breaking Bad, the Sabres goalie was nearly sent to the big penalty box in the sky in March 1989. He miraculously survived, and was back on the ice only five games later.
No 2: Andranik Karapetyan

See that look of anguish on the Armenian weightlifter's face after doing god knows what to his elbow? That look is why our workout of choice consists of walking, pick-up basketball, and typing as fast as we can to really get our heart rates up. No chances taken here.
No 1: Allan Ray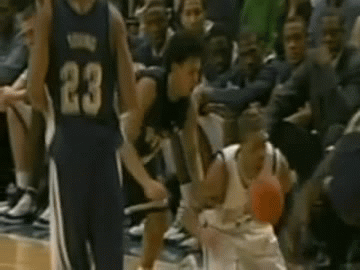 Yes, this is exactly what it looks like, and according to our in-house study, it makes roughly 110% of human beings cringe.