As the Kyrie Irving drama continues into its second week, most of the discussion continues to center on why he's leaving, who the Cavs can get for him, where he'll end up, and what LeBron thinks about all of it. There has been very little discussion about Kyrie the player. The most important question that no one (well, besides a few select people) is asking: is Kyrie Irving the kind of player you want to build your team around?
i really don't blame kyrie for wanting more. only the insecure begrudge ambition. but there's no teammate better for him than lebron james.

— El Flaco (@bomani_jones) July 22, 2017
Bomani Jones sums it up quite well in this tweet. It's a free country, and Kyrie has already accomplished a lot in this league, including winning a title. If he doesn't want to spend his prime playing in the shadow of LeBron James (which would be true in the Cavs organization whether LeBron was there or not), more power to him.
However, the insanely talented clutch player we think of when we think of Kyrie owes a LOT to LeBron, and I wonder whether the media, fans, and Kyrie himself understand that. Playing beside LeBron, Kyrie was a deadly one-on-one scorer who was able to accomplish the hardest feat in basketball, being an efficient, high-volume scorer. Guy can shoot the lights out off the dribble or spotting up, has the best handles ever, and may be the best finisher in NBA history under 6'3.

The role was perfect for him because he left the distribution to LeBron, similar to Allen Iverson when they moved him off the ball and told him to focus on scoring, while Eric Snow took care of ball-handling and passing. He was also able to take advantage of teams double-teaming LeBron and was a beneficiary of LeBron's world-class passing abilities. As Brad Stevens would say, Kyrie was put in a position to maximize his strengths (i.e. scoring).
Despite this successful partnership, the reporting has made it pretty clear that part of the reason Kyrie wants out is to play for a team where the offense runs through him. Somewhere Kyrie can bring the ball up the floor and decide what to do on every play, not wait to see what LeBron does and react. I can almost guarantee the picture won't be very pretty. Well, it may be pretty – Kyrie is majestic – but it won't be conducive to winning basketball games.

If you ever saw the way Kyrie played before LeBron arrived in Cleveland – or more recently, whenever LeBron was out of the game – you know that he's an unapologetic ball hog who seems to care more about being the nastiest one-on-one scorer alive than getting his teammates involved. He may care about winning, but he appears to think that going one-on-five every possession gives his team the best chance to win. Call it the Mamba mentality. It's really fun to watch, but not the way to win in the NBA.
I once counted four possessions in a row where Kyrie dribbled up the floor and shot it without any of his teammates touching the ball. If he gets traded to a team that turns over the keys to him, I guarantee he will lead the league in that stat (a stat I just made up). If he ever ended up in San Antonio and tried to play four straight possessions without anyone else touching the ball, Popovich would either strangle him or retire on the spot. And for good reason: teams featuring point guards who dribble the ball into the floor every possession don't win titles. It just doesn't work, no matter how good the point guard is. This is the most important possession of the season and he leaves the best player in the league hanging, despite being open for a much higher-probability three.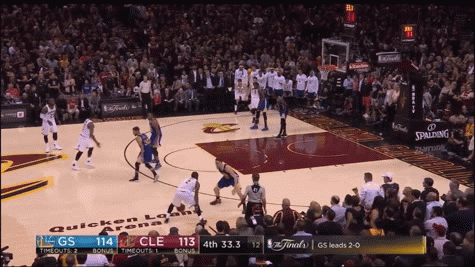 LeBron is the only person on earth with the skill set to complement Kyrie perfectly and the gravitas to control his most egregious ball-hogging urges. Without him, Kyrie will be an impediment to ball movement. His best chance going forward will be to pair up with a bigger teammate who can lead the team in assists despite not having the ball in his hands a ton and a coach who can help him see the ball-movement light (à la Phil Jackson with Kobe and MJ). Lonzo Ball and Ben Simmons both come to mind, but neither has played a minute in the NBA. Nikola Jokic is also a possibility, although he may have trouble getting the ball from Kyrie in the first place.

Being able to do anything with a basketball in your hands doesn't mean you should test that hypothesis every single time down the court, and in a team sport, it doesn't even necessarily make you a great player. Kyrie's skills will never be questioned. This is all about judgement and mentality. He is certainly a great player as a go-to scorer playing off of LeBron James. He hasn't proven whether the same is true as a point guard tasked with leading a team. Kevin O'Connor from The Ringer believes that Kyrie has a lot of untapped playmaking talent and leadership skills, and both Michael Jordan and Kobe Bryant were able to soften their selfishness enough to win titles.
Kobe and MJ were both 6'6 and great at defense, though. Kyrie is not, and that's being charitable. Look how it turned out before Kobe and Shaq found two big men with superior passing skills (Pau Gasol and Lamar Odom) to run the triangle offense through. If Kyrie ends up in Phoenix or New York next year, expect to see an amazing highlight reel night after night, and perhaps even a scoring title or (gulp) MVP. Just don't expect to see many happy teammates or much winning.