The 2016 and 2017 NBA Drafts somehow had the same exact order one through four: the Sixers, Lakers, Celtics, and Suns. The year before that, the order was different, but the lottery was loaded, producing Karl-Anthony Towns, Kristaps Porzingis, Myles Turner, and Devin Booker, among others.
2016 saw the Sixers take Ben Simmons, the Lakers snag Brandon Ingram, the Celtics surprise everyone by choosing Jaylen Brown, and the Suns end up with the very young, very raw Croatian stretch center Dragan Bender. Halfway through the 2016-17 season it looked like a lost cause. Simmons was hurt, Ingram struggled, Brown was trapped on the bench after a decent start, and Bender looked like a high school kid who accidentally showed up at an NBA game.
Six months later the narrative has flipped again. Simmons is my pick for 2017-18 Rookie of the Year, Ingram looked devastating in his one Summer League game (and looked really good the last 20 games of the season), Brown is tearing up Summer League after being relied upon to guard LeBron in the Eastern Conference Finals, and Bender is canning threes and blocking shots in Summer League.
The 2017 Draft started off with Markelle Fultz going to Philly, Lonzo Ball staying in La La Land, Jayson Tatum shipping up to Boston, and Josh Jackson joining the youth movement in Phoenix. We thought the top of this draft was good a year ago, we thought it was good on Draft night, and after a few weeks of Summer League, our opinion hasn't changed.
With only players from 2015, 2016, and 2017 eligible, we broke down the six best young duos going forward. The criteria: five years from now, which duo would you most want to start a franchise with?
6. De'Aaron Fox and Willie Cauley-Stein/Skal Labissiere (Sacramento Kings)
There are a lot of questions here. Can De'Aaron Fox shoot? Is Willie Cauley-Stein good? Was Labissiere's good finish last year a fluke? Should the Kings have just taken Malik Monk instead of trading the 10th pick? (YES)
Providing those answers is a little above my pay grade, but let's just call it De'Aaron Fox and whichever player is better between Cauley-Stein and Labissiere.
Fox may already be the fastest player in the NBA.
De'Aaron Fox isn't slow. #NBA
pic.twitter.com/btEBhZG5lw

— ProCity Hoops™ (@ProCityHoops) July 10, 2017
His game fits the league more snugly than OJ's Bruno Maglis, and he has a vivacious personality that would make the most skeptical of body language doctors swoon. If he turns out to be even a decent 3-point shooter – anywhere north of 35% – he should be devastating.
As for Cauley-Stein and Labissiere, there is a lot to like about both of them, but neither have the combination of track record and upside that most of the players on this list sport. Whoever turns out better should team with Fox to form a pretty strong duo.
Labissiere famously flopped at Kentucky, showing no interest in learning how to bang down low with other bigs, unlike say Karl-Anthony Towns. However, after a rough first half to his rookie campaign last year, the 28th pick in the 2016 Draft averaged 10.3 points and 21 minutes per game in March and 13.3 points in just over 29 minutes per game in April. He's also 6'11 and moves like a guard. If you re-drafted the 2016 Draft, he would certainly be a top ten pick, perhaps even top five.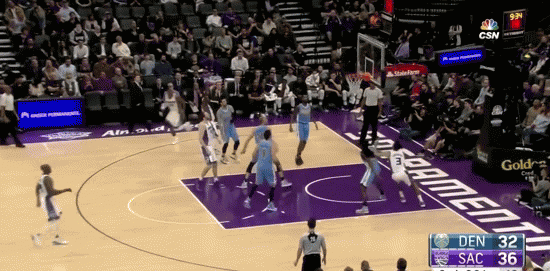 Coming out of college, I thought Cauley-Stein (the sixth pick in 2015) had a chance to be one of the best defenders in league history. A 7'1 dude with natural shot-blocking skills and the ability to chase around the CP3s of the world. The shot-blocking hasn't materialized, but in March he averaged 11.8 points and 7.8 rebounds in 32 minutes per game, and in April he averaged 14.8 points and 10.2 rebounds in 27.5 minutes per game. With even decent coaching he should be able to become a good two-way, rim-running modern center who can switch every pick and roll and average 15 points on dunks alone.
5. Kristaps Porzingis and Frank Ntilikina (New York Knicks)
Porzingis is probably the best combination of production and upside of anyone listed here, and Frank Ntilikina is the most unknown. A true ranking is impossible without seeing Frank the Tank in an NBA environment, so they go fifth for now.
4. Devin Booker and Josh Jackson (Phoenix Suns)
The top four teams on this list are the same four that have had the top four picks in back-to-back years, and they are really fucking hard to pick between. I could easily make a case for this duo being number one, based solely off of Devin Booker's career so far. I could also argue that Bender or Marquese Chriss belongs in Jackson's spot, but the two wing players get the nod here.
The reasons these two are fourth rather than first, or somewhere in between? First, Jackson has the highest risk of not becoming an impact player out of all the players in the top four. He won't be a bust – the defense, athleticism, and competitiveness are already too high – but with a sub-60 FT% in college and a wack-looking jumper, his career has a chance to look too close to Mike Gilchrist's for comfort.
Second is Booker. I watched every second of his 70 point game this past season, and at least 62 of them were legit, run-of-play points. I have very little doubt he will be an All-Star in this league, but I wonder if he'll ever bring anything to the table other than scoring and how much more efficient that scoring will become. He had an effective FG% of less than .500 last year and didn't scare anyone on defense.
Third is coaching/organization. Earl Watson doesn't do much for me as a coach (although I could see him developing with his team) and their owner is a clown. LA, Philly, and Boston all have above-average coaches and strong organizations.
3. Lonzo Ball and Brandon Ingram (Los Angeles Lakers)
Once again, these are tough rankings and these two could easily end up as the best duo on this list. Lonzo is already one of the best passers ever to lace up a pair of sneakers, and in his one Summer League game Ingram looked like a bigger, badder, meaner version of the doe-eyed rookie we saw last year. If he can be just decent from outside the arch, his 7'3 wingspan and high basketball IQ should make him the closest thing to KD 2.0 we've seen.
Last night Brandon Ingram gave Lakers fans a preview of what they may see next season. Confident attacking, handling in PnR, playmaking. pic.twitter.com/dJWU85RdmH

— Mike Schmitz (@Mike_Schmitz) July 8, 2017
However, if his outside shooting never catches fire, he may end up at that really-good-but-not-quite-All-Star level, which Luke Walton acknowledged in an interview with Bill Simmons in March. Lonzo has the same issue: despite his amazing talent and leadership abilities, if he can't consistently hit open threes and create shots for himself in the NBA, he may end up more like Ricky Rubio and less like Magic Johnson. If Rubio had played in the '80s he may have had a Hall-of-Fame career, but in 2017 you need to be able to shoot if you're a point guard, especially one like Lonzo who really can't get by anyone on the dribble.
2. Jaylen Brown and Jayson Tatum (Boston Celtics)
The Celtics sure like taking highly-recruited small forwards with unnecessary but very cool Ys in their first names third overall. Last year, Brown had an up and down rookie year for the playoff-bound Celtics, but he showed enough that Danny Ainge is now hanging up on people who bring up Brown in trade talks, and I get at least three texts per day from fellow Celtics fans excited about his progress and wanting him to start at shooting guard now that Avery Bradley is gone.
Why all the hype for a guy who averaged 6.6 PPG last year? For one, he was built to play defense in the modern NBA and is well on his way to becoming a top five defender in the league, the type who can guard Kyrie Irving, LeBron James, and Kevin Love all in the same quarter. Brown also has a rare ability to get to the rim, blowing by most defenders like their feet are stuck in mud. He also shot 34% from three as a rookie, an area that was supposed to be a weakness. He still needs to improve that shot, along with his ball-handling and finishing, but from what I've seen so far, I would peg his floor as an elite, multi-positional defender who averages 15 PPG on decent percentages.
Don't jump when Jaylen Brown goes up to dunk pic.twitter.com/mfha1VQf00

— Jason McIntyre (@jasonrmcintyre) July 10, 2017
Tatum is also a high-upside wing who can guard multiple positions, but his skill set is different. His offensive game is already smoother at 19 than Brown's may ever be, and he's shown the scoring ability so far in Summer League for us to believe that he could be a 25+ PPG player. However, he also has the tendency to hog the ball in isolation and take low-percentage mid-range shots. If his wet jumper extends well out to 3-point range and he can learn to get those points in the flow of the game without stopping the ball, the sky is the limit. If not, he will still be pretty fucking good, just based on his size/skill combo alone.
Jayson Tatum can get buckets. pic.twitter.com/KjhM7okGTt

— ESPN (@espn) July 10, 2017
These two end up at the #2 slot because they both have high floors AND high ceilings, along with great size/skill combinations for the modern NBA. They are also playing for a top three coach who excels at putting young players in a position to succeed.
1. Markelle Fultz and Ben Simmons (Philadelphia 76ers)
No, neither of them has played an NBA game yet, and yes, both of them got injured during the offseason between being drafted and the beginning of the season. However, they were both #1 picks for a reason.
I thought Fultz was a Hall-of-Famer coming into this Draft, and nothing I saw during an abbreviated Summer League made me think any differently. He is built to play offense in the modern NBA and has all the pieces in place to eventually become an excellent defender as well. Imagine James Harden with Klay Thompson's defense.
Markelle Fultz got all the way up there for this block on Kadeem Allen. 😳👀 pic.twitter.com/QbdRl0UCcX

— Hashtag Basketball (@hashBasketball) July 4, 2017
I expect Ben Simmons to be the best first-year NBA player in the league next year. He may not win ROY because he and Fultz will split votes, but this guy is ready to get busy. It's easy to harp on his lack of shooting – I certainly have – but after re-watching his college and 2016 Summer League tape, I'm not sure how much it matters, at least right away. Dude is a hair under seven feet, can run the floor like a Durantula, rebounds at both ends, and was born with the elite passing gene.
Simmons has such a freakish size/athleticism/skill combo that he feels like an All-Star even if he never develops a killer jumper. Unfortunately for the rest of the league, it appears that he might. Whatever this is, it isn't broken:
Picking the two Philly kids to top this list is risky, but the talent is there, and if I'm betting my life on which duo turns out the best, they get my pick.