The Yankees are famous for making big trades and big splashes in free agency. But since Brian Cashman became GM in 1998 a few players have come up through the system who turned out to have a major impact. Here are ten of the best.
Note: Signings of young international players count, but established players like Tanaka and Matsui don't.
MIDDLING MAJOR LEAGUERS
These guys were never great Yankees, but they played for a long time in the Majors, and for that they deserve SOME GODDAMN CREDIT…
10. Phil Hughes
Hughes chose to sign with the New York Yankees when they selected him in the first round, with the 23rd overall selection of the 2004 MLB draft. The Yankees were awarded the pick as compensation when Andy Pettitte signed with the Houston Astros. Hughes came into the league like a rocket, along with Joba Chamberlain and Ian Kennedy. This tends to give Yankees fans pause when talking about the current youngsters; they've seen this show before. Burn me once, ouch that hurt, but I kind of liked it. Burn me twice and it's time to get the fuck out of my house.
9. David Robertson 
David Robertson was drafted by the Yankees in the 17th round of the 2006 Draft and he was a good Yankee, recording 47 saves with a 2.81 ERA over seven seasons. But he was never enough, for the same reason your stepdad is never enough: because he ain't daddy (daddy being Mariano Rivera). During the summer of 2014, Robertson did a decent Mariano impersonation, but was never able to fill his shoes. He left for Chicago, saving 79 games over his last three years for the Chisox. Good for you D-Rob, enjoy closing for a team who never wins.
8. Melky Cabrera
Melky, Melky, Melky, what an odd career you've had. Cabrera was signed by the Yankees on November 14, 2001, at age 17, receiving a $175,000 signing bonus. He would play for the Yankees from 2005 to 2009 as a completely respectable outfielder, with a .269 BA/.331 OBP/4.7 WAR. Cabrera would be traded after rumors started to surface that he was a bad influence on teammate/best friend/better player Robinson Cano. Cabrera left mostly as an afterthought but would later take the league by storm after he started bulking up in a way that only occurs when you take steroids. Melky got caught and was suspended for 50 games, costing him a batting title in 2012. Cabrera and his steroid-fueled bat ended up with career numbers of .285/.335/23.2 WAR.
TOO SOON TO TELL
These guys could all be great, but it's just too soon to tell. However, hopes are high, and Yankees fans are starting to feel superior again…
7. Luis Severino
Severino signed with the New York Yankees as an international free agent on December 26, 2011, agreeing to a $225,000 signing bonus. At 17 years old, Brian Cashman saw something in this guy, and he's starting to show everybody else why. Sevy has stuff, and his stuff reminds me of my ex-girlfriend's mother in that it's NASTAY. Hitters leave shaking their heads, and scouts are salivating at his potential. If Severino can keep up his line from the young 2017 season (3-2/3.11 ERA/1.6 WAR) at the ripe age of 23, the Yankees could be looking at an ace for the next decade.
6. Aaron Judge
JUDGEMENT DAY IS HERE, FOR AARON JUDGE HAS RISEN. MAY ALL PITCHERS, BREAKABLE EXTERIORS, AND BASEBALLS BEWARE.
Let's get this straight: the man can rake. The Yankees looked at his size and power when they drafted him 32nd overall out of Fresno State in 2013. Last year, in limited minutes, he did not impress, but this year has been a whole 'nother story. And the stats point to continued success, as he's taking more walks, striking out less, and leading the league in home runs. Plus he's batting .315 with an on-base percentage of .420. His 2.8 WAR is more than respectable, and he's making plays in the outfield. Bottom line? Time to hide the wife and children because Aaron Judge is coming for you.
5. Gary Sanchez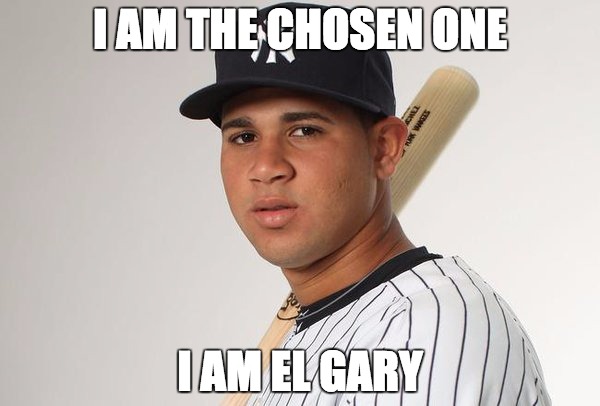 Gary Sánchez signed with the Yankees as an international free agent in July 2009, receiving a $3 million signing bonus. Sanchez had a Judge-like burst onto the scene in 53 games with the Yankees, finishing with a .299 batting average, 20 home runs, and 42 RBI in 2016. He also finished second in the voting for Rookie of the Year, behind Michael Fulmer. He's continued that success this year after coming back from injury, putting up numbers of .266/.355/4 HR. It's been slower, but he's putting a good bat on the ball and has been willing to sit through Tanaka's starts, so he has that going for him, which is nice.
GOOD YANKEES
These guys worked out for the Yankees and have yet to leave for greener pastures…
4. Dellin Betances
The Yankees selected Betances in the eighth round of the 2006 Draft and gave him a $1 million signing bonus to forgo his commitment to Vanderbilt. He went on to struggle for many years until making it to the Majors in 2011, where he struggled again as a starter and was banished back to the ugliness of Triple-A Scranton. While in the minors, Betances became a reliever and has since become one of the best eighth-inning men in the game. He has over 400 strikeouts, an ERA of 2.05, and 26 saves to go with a career WHIP of 1.0006. He's become a great player and one of Cashman's best picks.
3. Brett Gardner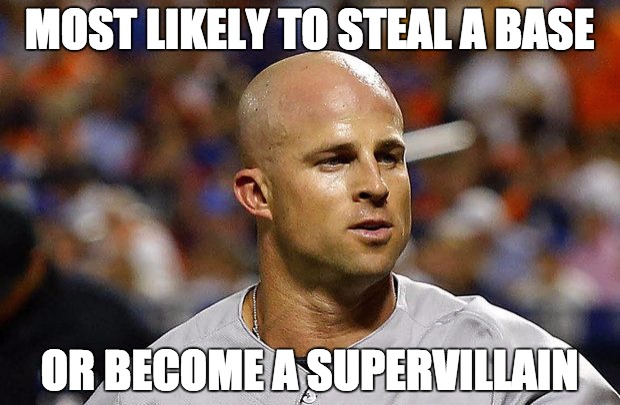 After his senior year in college, the New York Yankees selected Gardner in the third round of the 2005 Major League Baseball Draft (109th overall). Gardner received a $210,000 signing bonus. He's the Yankees' fastest player and may also be their whitest, which is a contradiction only the Yankees could achieve. Gardner has never been great, but he's always been good (All-Star in 2015, Gold Glove last year). He's fun to watch, a good teammate, and plays the game with a ton of heart. You throw that out there with career stats of .264/.347/72 HR/362 RBI/223 SB and a 32.5 WAR, and while he may never end up in Monument Park, it's tough to argue with his results.
MADE THEIR MONEY ELSEWHERE
Can't argue with the talent, but it was tough to see them go. Well, at least it was for Robbie Cano…
2. Alfonso Soriano
The Yankees signed Soriano as a free agent in 1998 after he left Japan, where he played as a teenager. Soriano was a phenomenal Yankee through his early 20s, coming in third in Rookie of the Year voting in 2001 and finishing third in the MVP in 2002. He was then traded for the needle-loving third baseman known as Alex Rodriguez, who recently has started writing down notes about pulling out while announcing baseball games on FS1. Soriano went on to have a career that will probably leave him just short of Cooperstown, putting up a line of .270/.319/412 HR/1159 RBI/289 SB and a 27.4 WAR. He also got to spend his last two years with the Yankees, retiring as always he should have been, in pinstripes.
1. Robinson Cano
Cano was a spectacular Yankee, with the smoothest swing you can imagine, power you couldn't see coming, and a charming smile that made Yankees fans swoon. He was, in maybe the dumbest move ever, allowed to leave as a free agent in a cost-cutting measure the same year the Yankees gave Jacoby Ellsbury a seven-year, $153 million deal that a blind man could see was a pile of shit from a mile away. Since then Cano has continued to be one of the best hitters in the game, while Ellsbury has made a vacation home out of the DL.
Cano was signed by the Yankees in 2001 as an amateur free agent, receiving a signing bonus of over $100,000. He's a seven-time All-Star, a five-time Silver Slugger, and a two-time Gold Glove winner. He has a career .306 BA and 286 HRs. To top it off he has a career WAR of 63.7. He is simply the best player to come through the Yankee system since Cashman took over, which makes it even crazier that the biggest blunder of Cashman's career was not making sure that Cano would be around when Jeter hung up the cleats.