For those of you sitting there asking yourself, "Who the hell is Alex Moran?", walk, don't run, to the couch for an episode of Spike's Blue Mountain State. Moran is the backup QB on the show who embraces the position. He doesn't want to play because he prioritizes getting drunk and having sex over playing football. Eventually he becomes a starter, but that's neither here nor there. What's important is that after he realizes he could make the NFL, all he wants to do is be…a professional backup quarterback and spend his life as an "Average Joe." In the spirit of all the recent backup QBs getting insane guaranteed money, here are the NFL's top 5 Alex Morans.
Here are some clips from the show. Like I said, walk…don't run…
5. Shaun Hill – $25M earned, 20K per pass attempt 
Shaun Hill's insanely high dollars earned is a product of him Alex Moran-ing since before Facebook. That's like millions of years in tech time. He's another example of someone who's gotten some starts based on the way human biology works, i.e. ligaments tearing and heads concussing. Unlike Alex Moran, Hill was abysmal in college, throwing only 19 touchdowns and 13 interceptions for his entire career. Exactly like Moran, he dominated a different amateur league, the CFL, where he led the league in passing yards and touchdowns before becoming an "Average Joe" for 11 years. He's earned $20,000 per pass attempt and $23 million per reception for himself…
4. Matt Moore – $23M earned, 27K per pass attempt
Matt Moore won over the hearts of NFL fans during HBO's seventh season of Hard Knocks. He's also won himself $23 million over seven seasons for basically just being competent. The guy was a true starter for about five minutes to open his 2010 season with the Panthers and then crawled back to the bench where he felt most comfortable. Despite The Squad, Matt Moore remains the team's best cheerleader and easily its highest paid.
(Do yourself a favor and listen to this recap of Matt Moore getting destroyed…in German.)
3. Matt Cassel – $61M earned, 39K per pass attempt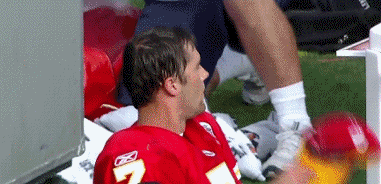 Matt Cassel rose to relevance when the biggest cheater in NFL history went down Week 1. Cassel realized that if he maintained a pulse for the rest of the season, the Dark Lord himself, Bill Belichick, would bring him all the riches he could ever want. Cassel's value skyrocketed when he led the Patriots to an 11-5 record, but still missed the playoffs, to his satisfaction. The next year he became Kansas City's starter, where he felt very, very uncomfortable. He then returned to the bench, where he felt most at home making millions off Bernard Pollard's "dirty hit" for the rest of his career. Deal with it.
2. Brock Osweiler – $40M earned, 49K per pass attempt
Probably the most Alex Moran player since Alex Moran, Osweiler is now the definition of the phrase "cashing in." He's from Wyoming like Moran (he's from Montana, but it's basically the same state), he rode the bench like Moran, hell he even looks exactly like Moran (cue the conspiracy theorists). Osweiler showed flashes of potential when he helped the Denver Broncos reach Super Bowl 50. The next year, he landed an absurd contract from Houston guaranteeing him $3 million for every TD pass he'd ever thrown.
Osweiler would prove to the Texans and to the world that he not only belonged on the bench, but belonged in Cleveland. You're a surefire first ballot Alex Moran Hall of Famer when you're essentially given to Cleveland for free and then Cleveland doesn't even want you. But Brock doesn't give A FUCK. He'll be prioritizing getting drunk and having sex over football while you're reading weird sports comedy websites.
1. Drew Stanton – $23M earned, 50K per pass attempt
Even though Stanton's been in the league for nine years, he's been conscious for only six of them. The guy is making about 50K per pass attempt. Not bad when the minimum requirement is simply to release the football. He's started a few games, but that's only because Carson Palmer, Matthew Stafford, and Shaun Hill got hurt. Now he enjoys the pine and the passive income. You can bet that Stanton counts his blessings every day for guys like Palmer and Stafford being so good and durable. But Shaun Hill? Eh, why not.