*Not really NBA history. More like since the mid-80s.
We based this list on the gulf between talent/potential and production. So you won't find players like Dwight Howard, Lamar Odom, Shawn Kemp, and Rasheed Wallace, because despite leaving a lot of talent on the table (so to speak), they all managed to have relatively long and successful careers in which they occasionally fulfilled their potential. Same with Chris Herren, because even though he blew his entire career on drugs, he didn't have the talent to be a star in the first place (had he stayed healthy).
We also tried not to punish players because of injury. Sam Bowie and Greg Oden aren't on this list. And neither is Len Bias. He may have squandered the most, but since we never saw him in the NBA, it's impossible to rank him.
No 12: Michael Beasley
Beasley's story isn't done yet, but he has already squandered a hell of a lot. The well-known weed aficionado averaged 19.2 PPG in 32 MPG as a 22-year-old in Minnesota. Two years later he could barely crack the starting lineup in Phoenix, and 18 months after that he was suiting up in China. What do you think the over/under is on how many pounds of weed he personally smoked during that four year stretch? 20? 25?
No 11: Jay Williams
The only doubt here is how much talent he possessed, because there is absolutely no doubt he completely squandered it. Williams crashed his motorcycle after a rookie season in which the 6'2 guard averaged 9.5 points and 4.7 assists. He never played again. In this small-ball era, he would have been devastating.
No 10: Darius Miles
If Miles had been born 10 years later and had half a head on his shoulders, he would have been an absolute terror in the current incarnation of the NBA. A 6'9 forward with Brandon Ingram-length arms, Miles averaged 10 points, 6 rebounds, and 1.5 blocks per game as a 19-year-old with the Clippers after going 3rd in the 2000 draft. He also never grew up. He was done by 25 and out of the league by 27. He is now bankrupt, despite making tens of millions.
No 9: Kenny Anderson
Perhaps the most decorated NYC high school player since Lew Alcindor, Anderson played two great seasons at Georgia Tech before becoming the 2nd overall pick in the 1991 NBA Draft. He struggled as a rookie, averaging only seven points per game, and although he became a star by 23, averaging 19 points, 9 assists, 4 rebounds, and 2 steals per game, he never got any better after that. Anderson would go on to have a relatively long career, playing until he was 34, but it was as a man more interested in living the high life than maxing out his (massive) basketball potential.
No 8: Jeff Green
One of the most frustrating players in recent NBA history, Green had the talent to be a Paul George type, but for the most part plateaued after a strong second year where he averaged 16.5 points and 6.7 rebounds per game. He should have played 10 years as a 23-8 guy who could guard three positions. Instead he seemed to float through games (and seasons), never demonstrating the instinct for the jugular that separates the best players, but occasionally frustrating fans by flashing signs of his (all too rare) brilliance.
No 7: Eddie Griffin
The saddest case (and probably least recognizable name) on this list, Griffin was a 6'10 forward with skillz for days who was drafted 7th overall in 2001 after averaging 18, 11, and 4.4 blocks per game as a freshman at Seton Hall. By this point he had already been suspended for his entire senior year in high school for fighting and knocked out a teammate from Seton Hall in the locker room. He started off pretty well, but Griffin struggled to handle his newfound wealth and developed a drinking problem. He was in rehab by year three and in 2007 at only 25 he died in a suspected suicide.
The #6 pick out of Kentucky in 1996, Walker was a 6'8 forward who could basically do anything on the court. He was good immediately and even made a few All-Star games early in his career – in 2000-01 at the age of 24 he played 81 games and averaged 23.4 points, 8.9 rebounds, 5.5 assists, and 1.7 steals per game – but he wasn't effective after the age of 26 and out of the league by 30. But despite his impressive numbers, Walker also left a lot on the table during his (early) prime. He shot way too many threes, was out of shape, didn't work out in the offseason, and was an all-around selfish player with a terrible shot selection.
No 5: Chris Washburn
Selected one pick after Len Bias (#3 overall in 86), Washburn was an athletic 6'11 center with upside coming out of his ears. He was in rehab halfway through his rookie season and out of the league in less than two years. And as you can see above, his life hasn't exactly been peaches and cream since then.
No 4: Stephon Marbury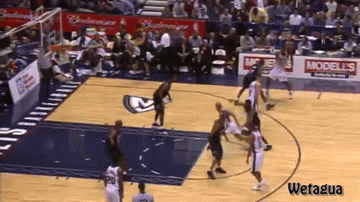 A more extreme version of Kenny Anderson and the #4 pick in the 1996 NBA Draft, Marbury was a 6'2 point guard with no weaknesses (unless you count unchecked narcissism). During the 1998 season, when Marbury was 21, he was averaging 17.7 points and 9.3 assists per game with only three turnovers, but he chose to force a trade to New Jersey. Instead of sticking around to build a dynasty with KG, he chose to go back home and take more shots and to get away from KG holding him accountable. He immediately stopped getting better and was never the same. He was also a bona fide celebrity by 14 and had more hangers-on than a rock band. He put up impressive (but empty) numbers for a few more years, but was done as an effective NBA player by age 27.
No 3: Andrew Bynum
After being drafted out of high school as the youngest player in the league, Bynum eventually caught on and was an important part of two title teams with the Kobe/Gasol Lakers. Then in 2011-12 at the age of 24 he averaged 19, 12, and two blocks per game while shooting 56%. He basically became a star before our eyes. Then he was dealt in the Dwight Howard deal and before he ever suited up in Philly.he hurt his knee in a bowling alley accident. You know where this is going. He was never the same. Why do we hold his injury against him? Because it was preventable and he didn't put enough effort into rehabbing it. With modern medicine being what it is, Bynum should be starting the All-Star Game next year, not scalping a ticket on the street.
No 2: Derrick Coleman
The #1 overall pick out of Syracuse in 1990, Coleman was a 6'10 lefty who could hurt you in a variety of ways. Dude had serious game. He averaged 18 and 10 as a rookie, but from the beginning of his career he was always missing chunks of time with preventable injuries. His best year was as a 25-year-old when he averaged 20.7 points, 11.2 rebounds, 3.7 assists, 1.2 steals, and 1.7 blocks per game. It was downhill from there. Coleman had a shitty me-fist attitude and was constantly out of shape. He actually ended up playing for 15 seasons, but most of them were filled with injuries and disappointments.
No 1: Eddy Curry
You might wonder where Kwame Brown is on this list, but the truth is that Eddy Curry was the real talent from the 2002 draft. Kwame Brown just had one great workout and got Michael Jordan to buy in. Curry combined a sturdy 7-foot, 280-lb frame with enough agility to pull off a backflip. He also had soft hands and good feet. He could have been 85% of Shaq if he had a single ounce of professionalism or work ethic. Unfortunately Curry was out of shape even in high school, and once he got to the NBA and came into money, all bets were off. His personal life was such a disaster that basketball seemed like an afterthought. He was so talented that he even put up some decent numbers, but after 25 he ceased to be relevant as a player. If Curry had HALF of Kevin Garnett's work ethic, he would still be playing and on his way to the Hall-of-Fame.