Sometimes you win, sometimes you lose, and sometimes you get your ass kicked. In the biggest games of their lives, these people forgot to show up, and now they're in the record books forever. Not the good kind of record book, but the bad kind. Like in The Mummy, when the woman reads that book that brings that creepy mummy back to life and he eats people's faces off. These people would all be in that book.
And we're off…
14. Dallas Cowboys vs the Bills – Super Bowl XXVII
Super Bowl XXVII was the resurrection of the Dallas Cowboys. The Cowboys laid into the Bills for the majority of the game, but especially in the fourth quarter, outscoring them 21-0 to bring the final score to 52-17. What also makes this sad is that this is stop number three on the road to the Bills' four straight Super Bowl losses. The best thing that's ever happened to Buffalo is Drake rapping "Shout to Buffalo" on More Life, so they've got that going for them.
13. Heat vs Spurs – 2014 NBA Finals
The 2007 Cavaliers losing to the Spurs in a sweep was an honorable mention, but this tops it because the 2014 Heat were so much better than the 2007 Cavs, and 2014 LeBron was superior in all ways to 2007 LeBron. After starting the series tied 1-1, the Spurs blew the back-t0-back champion Heat off the floor like they were an NBDL team. The best small forward of all time and the third best shooting guard of all time were left staggered as Kawhi Leonard introduced himself to the world and Danny Green made about 87 threes in a row.
12. Celtics vs Lakers – Game 6 of the 2008 NBA Finals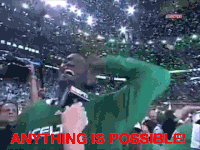 The largest margin of victory in an NBA Finals game in the league's history. With an opportunity to force one of the greatest events in sports – Game 7 – the Lakers lost by an astounding 39 points. In the Lakers' defense, the Celtics were absolutely stacked that year. Kevin Garnett, Ray Allen, and Paul Pierce made up the big three, but were also complemented by talented players in Rajon Rondo and Kendrick Perkins. It's always a good day if I get to write about Kobe getting beaten to a pulp.
11. Ronda Rousey vs Amanda Nunes – UFC 207
Does it count as a beatdown if it only last 48 seconds? Yes, yes it does. Has anyone seen a professional fighter get dominated like this in such a short amount of time? It wasn't a one hit KO, it was Rousey getting pummeled nonstop within a minute. Sure, Rousey was fresh off a loss to Holly Holm, but this 48 second fight was the finishing touch on her fall from the top.
10. Alabama vs Notre Dame – 2013 National Championship Game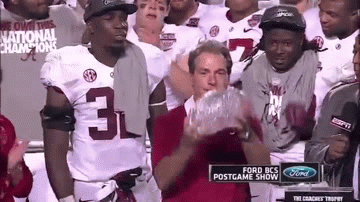 Maybe Notre Dame forgot to say their prayers the night before? Actually, no, they probably remembered and Jesus was all like "Nah, even I can't help you beat Nick Saban. Good luck, homie!" Notre Dame was just outmatched in talent for this game and everybody knew it. If these teams play ten times, Alabama probably wins all ten of them. While this blowout certainly isn't shocking, it still was a dominating performance from start to finish.
9. Brock Lesnar vs Frank Mir – UFC 100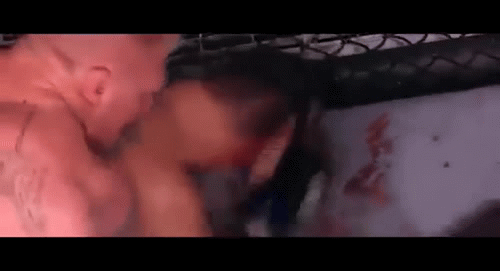 Yo, I don't know if you can see it or not, but there's a lot of blood in the above GIF, and it sure as shit ain't Brock Lesnar's. Lesnar's strategy went something like this: "Hey, trainer guy, I got an idea! I weigh as much as a buffalo, so if I just lay on top of him I bet he can't get up!" Seems like a great strategy to me, as he's a very large man and he won.
8. Seattle Seahawks vs Denver Broncos – Super Bowl XLVIII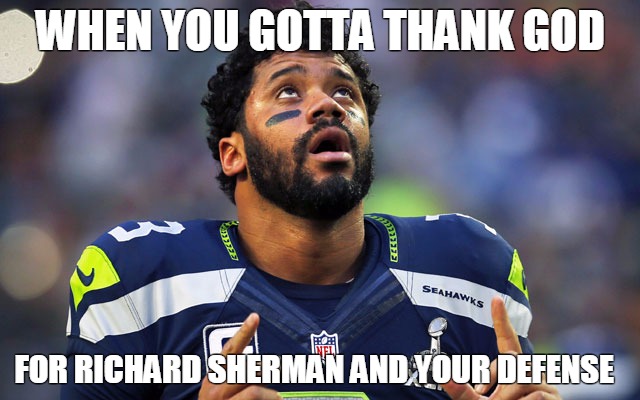 The Seahawks defense in 2013-14 is one of the best ever to suit up, and it showed in the Super Bowl. Peyton Manning and company didn't even score until the very end of the third quarter. Seattle's defense forced four turnovers and held the Broncos to 27 rushing yards in the game on the way to a 43-8 grade A whoopin'.
7. UNLV vs Duke – 1990 NCAA Championship Game
UNLV still holds the record for most points scored in an NCAA National Title Game and the largest margin of victory at 30 points (103-73). Was Duke still America's most hated basketball team back in those days? I was negative one year old, so I'm just curious if people hated them then as much as they do now. Either way, I got to write about Kobe and Duke getting beat down in the same article, so I'm having a great day.
6. 2001 Lakers – Entire Postseason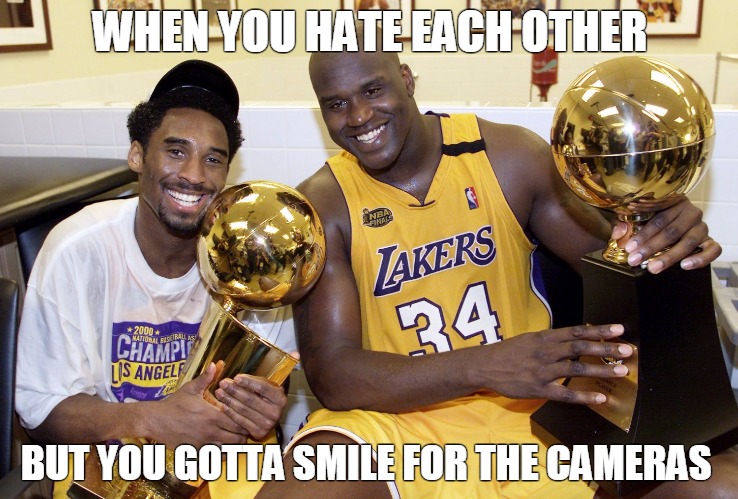 The 2001 Lakers hold the best NBA playoff record in the league's history at 15-1. Shaq and Kobe went into beast mode for the playoffs that season – 59 combined average ppg and more points than the rest of the Lakers combined – and the rest of the teams just didn't stand a chance. This is a very hard paragraph for me to type, as I'm a huge A.I. fan and this is the year he could have had a final. Now I'm very sad.
5. Chicago Bears vs New England Patriots – Super Bowl XX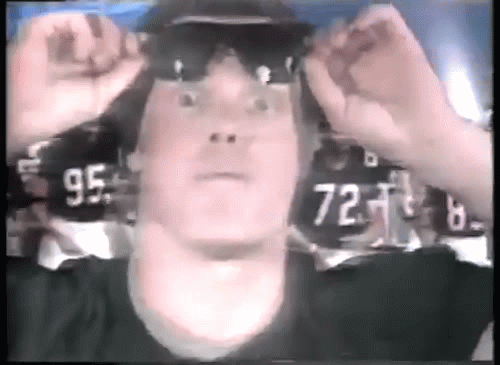 The '85 Bears probably had the most swagger of any Super Bowl winning team, and they backed up their legendary Super Bowl Shuffle music video by embarrassing the Patriots with a final score of 46-10. The Bears allowed just seven rushing yards and sacked the Patriots QB seven times – both are still Super Bowl records. I love trash talkers in sports, and what's even better is a trash talker who can back it up when it's time to play. The '85 Bears did just that.
4. San Francisco 49ers vs Denver Broncos – Super Bowl XXIV
Joe Montana and the 49ers dominated this game from start to finish, leading 41-3 at one point in the third quarter. Montana threw for five touchdowns and the San Francisco defense confused an outmatched John Elway, forcing him into a 38% completion percentage and two interceptions. Denver is the only team on this list twice. Huge blow for that city's reputation.
3. Tiger Woods – Augusta '97
Tiger's dominant 12-stroke victory forced one of the most conservative courses ever (didn't have a black member until 1990 or a female member until 2012) to make serious changes in an effort to "Tiger-proof" their sacred ground. This win didn't only impact Augusta, though; it changed the game of golf forever and ushered in the era of Tiger's dominance.
2. George Foreman vs Joe Frazier – 1973
"Down goes Frazier!"  Frazier got knocked down three times in the first round and three times in the second round until the referee finally called the fight. Frazier looked shook from the first knockdown of the fight and never recovered. He was also the monumental favorite heading into this fight, as he had just beaten Muhammad Ali in the first ever fight between undefeated boxers, which makes this beatdown even more extraordinary.
1. Tiger Woods – 2000 U.S. Open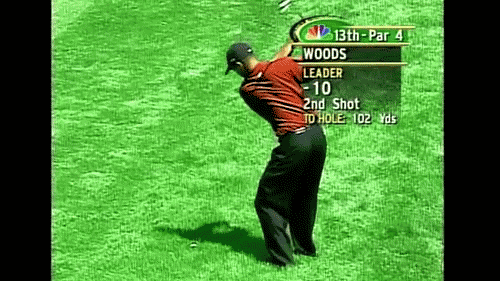 Tiger Woods' 15-stroke win at the U.S. Open is still the largest margin of victory in a PGA Major, and Tiger was the only player to score under par for the tournament. Not only that, his total stroke score of 272 tied the lowest score ever at the U.S. Open. Peak Tiger was a thing of beauty, and we all need a little bit of it back in our lives.