After re-watching Sergey Kovalev vs. Andre Ward from the weekend of 11/19/2016, it is even clearer that Sergey Kovalev won the fight. He landed more, threw more, won the ring generalship battle for the majority of the fight despite fading late, and knocked Ward down. Andre Ward benefited from the referee's allowing him to hold and hit as they were breaking and while Ward does deserve credit for coming back and turning the fight around, it was clear that he did not deserve the decision. In fact, ESPN still has Kovalev ahead of Ward in its Pound for Pound rankings.
However, while Kovalev may have been robbed by the three judges at ringside, the fight does not come close in the pantheon of boxing robberies for big fights. With apologies to Pernell Whitaker, the following is a list of the top five biggest prizefight robberies of this generation.
No 5: Felix Trinidad (W12) Oscar De La Hoya (9/18/99)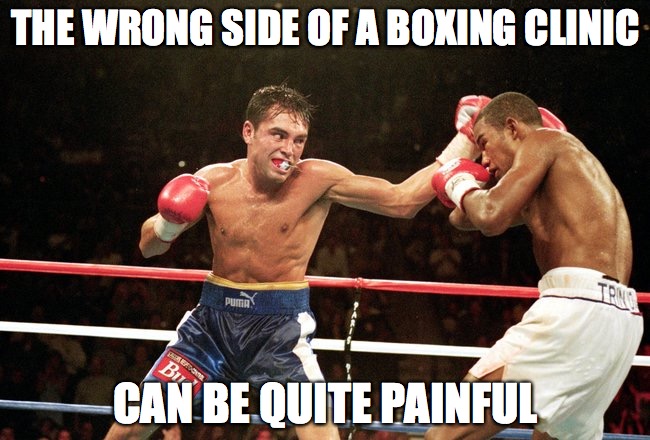 Somehow all three judges (two for Trinidad, one a draw) watched a different fight than everybody else saw. De La Hoya dominated the first eight rounds of the fight. There is no way to watch the fight and not give De La Hoya the seven of the first eight rounds at a minimum. The problem? De La Hoya knew that and committed a cardinal boxing sin. He started running knowing that he had seven rounds in the bank and just needed to avoid a knockdown to win. De La Hoya just ran the last few rounds and the scorecards punished him for it. But that does nothing to change the fact that De La Hoya clearly out-boxed the man they call "Tito" and should have won the fight. Dan Rafael wrote a great column about the fight 15 years later.
No 4: Paul Williams (W12) Erislandy Lara (7/9/2011)
Do you know how you can tell that a decision went the wrong way in boxing? A sure fire way? All of the judges from the fight get suspended and are forced to undergo training. Yes, that actually happened.
No 3: Timothy Bradley (W12) Manny Pacquiao I (6/9/2012)
There are not enough words in the English language to properly convey to you what a highway robbery this decision was. It wasn't just celebrities wondering why on Earth Manny didn't win despite dominating virtually every round of the fight. There was not a single person aside from the two judges awarding Bradley the split decision victory that had the fight for him. It remains confounding to this day and led to a horrible trilogy, much to the detriment of boxing fans everywhere.
No 2: Evander Holyfield vs. Lennox Lewis I (Scored a Draw on 3/13/99)
Controversial does not begin to describe this horrid of a decision in this big of a fight for the heavyweight title. Lewis threw more power punches than Holyfield (249 to 214) and out-landed him 65% to 36%. SIXTY-FIVE PERCENT! It is pretty impossible to lose a fight with those power punch numbers. On the bright side for Lewis, he won the rematch via unanimous decision.
The fight was held in New York. Everybody with eyes scored the fight for Lewis except for the three judges. Even then New York Mayor Rudy Giuliani was embarrassed, and as you know, it takes a lot to embarrass Rudy Giuliani. Was this lame paragraph just an excuse to give you the link to Donald Trump motor-boating Rudy Giuliani? You be the judge.
No 1: Si Hun Park def. Roy Jones Jr. (1988 Seoul Olympics Gold Medal Match)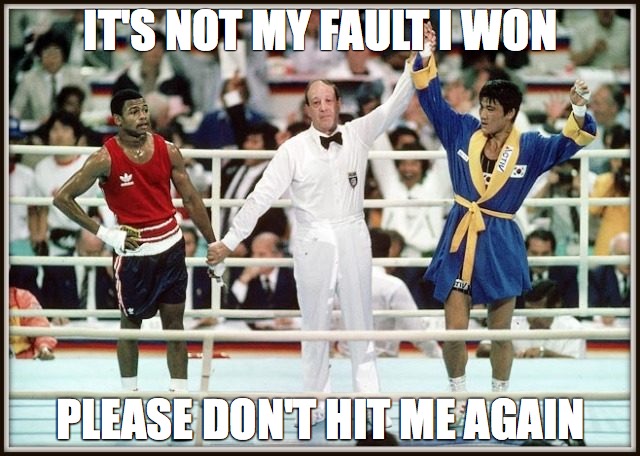 More judges being banned! These three judges were banned for two years following this abomination. The robbery committed upon Roy Jones Jr. was so awful that Time has it in its top 10 worst calls in sports, not limited to boxing. It was that bad. The ultimate home-field advantage. Si Hun Park even lifted Roy in the air after the fight. Many may know Roy as the old guy who won't stop fighting, but Roy is an all-time great who topped the Pound-for-Pound lists throughout the majority of his career. Here, watch the Olympic travesty for yourself.